Charity Hopes to Raise the Ship King Charles III Once Commanded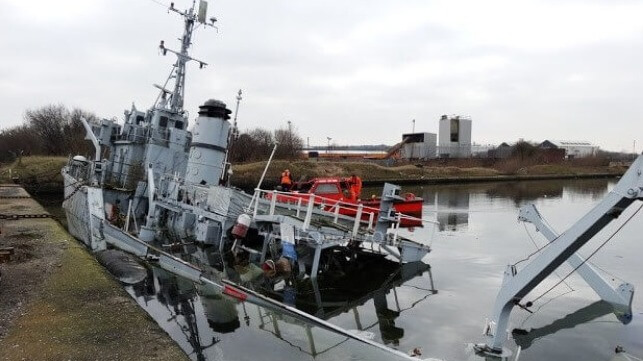 A charity backed by the UK Ministry of Defence is working to salvage and restore the minehunter HMS Bronington, better known as the "King's ship" for the time she spend under the command of the Prince of Wales.
HMS Bronington is a wooden-hulled minehunter built at a yard in Yorkshire in 1953. In 1976, she transferred to the home waters of the Firth of Forth for a 10-month period under the command of His Royal Highness Lt. The Prince of Wales. She was decommissioned in 1988 and transferred to a charitable trust for preservation and display. The trust closed in 2006, and her ownership passed to the Mersey Docks and Harbour Company. She deteriorated over the years, and in 2016, she partially sank at her pier in Birkenhead, where she has remained since.
Image courtesy Royal Navy
With the coronation of King Charles III, the Bronington has additional new relevance. The HMS Bronington Preservation Trust, which was designated formally as a registered charity last month, hopes to raise the funds necessary to refloat and restore the vessel. The trust plans to apply for a national lottery grant and to gather crowdfunding dollars, and it has secured offers for free professional assistance with raising the vessel and planning its repair.
The trust conducted a dive survey last year to examine the state of the hull, with support from local veterans, and found that the vessel is in suitable condition to salvage. Divers with Briggs Marine inspected the hull and found only two holes, located towards the bow.
The plan is to raise the ship this year - the 70th anniversary of its commissioning as well as the year of the king's coronation - and transfer it to a nearby yard in Birkenhead, where it will be placed in a steel cradle. Its condition will be stabilized and any toxic materials removed. At this point, the trust will decide whether to finish a partial restoration and save the vessel as a static museum ship, or to pursue a full restoration and make her a seagoing vessel once more.
King Charles III has said that he has "many fond memories" of his time on board, and he has kept in touch with some of the men under his former command. He has described the effort to save his former ship as "truly humbling."