Captured Ukrainian Sailors Lose Court Appeal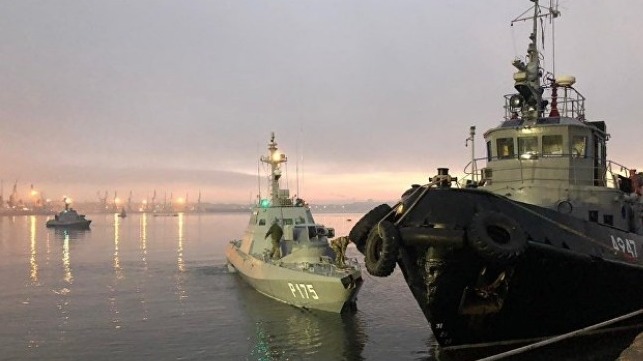 An appeals court in Russian-occupied Crimea has decided that five Ukrainian Navy sailors captured by Russian forces in late November will not be released. Their imprisonment will continue until January 24, according to RIA Novosti. 19 of their shipmates also remain in captivity, and have already exhausted the appeals process.
On November 25, Russian forces blocked three Ukrainian naval vessels from crossing under the Kerch Strait Bridge, then fired upon, rammed and boarded them as they retreated south into the Black Sea. Russian border guards took all 24 crewmembers from the vessels into custody, including three who were injured in the exchange and required hospital treatment. The detainees have since been moved out of Crimea and taken to two detention centers near Moscow.
The Ukrainian servicemembers stand accused of an "illegal border crossing" and face up to six years' imprisonment if convicted. The international community does not recognize a Russian maritime "border" in or near Kerch Strait; in addition to the freedom of navigation protections afforded by UNCLOS, Ukrainian access to the Sea of Azov is separately guaranteed by a bilateral treaty with Moscow.
The European Union has called on Russia to release the captives and return custody of the naval vessels to Ukraine, but has not moved to strengthen sanctions or impose other penalties over the altercation.
Preparing for conflict
Russia annexed Crimea from Ukraine by force in 2014, and in May, it completed a new bridge to connect the Russian mainland to the peninsula. The Kerch Strait bridge provides Russian forces with the means to resupply military assets in occupied Crimea, and it also creates a narrow choke point for Ukrainian merchant shipping between the Black Sea and the Sea of Azov. Russian border control forces have implemented an extensive inspection process for merchant vessels passing under the bridge, leading to complaints from Ukraine and the United States about Russian interference with freedom of navigation.
"There's a war going on, initiated by Russia . . . and this war is raging at sea too, since 2014," said Vice Admiral Andriy Tarasov, chief of Ukraine's naval staff, speaking to Kyiv Post on Saturday. "If we face an act of aggression, we will be ready to have different rules, particularly regarding the use of weapons, if we are forced to do so, and if we are fully entitled by international and Ukrainian law."
UK and U.S. pledge new support
The Royal Navy recently deployed the intelligence ship HMS Echo to the Black Sea to participate in drills with the Ukrainian Navy. UK defense secretary Gavin Williamson visited the Echo while she was in port in Odessa, and he expressed support for Ukraine in the face of "continued illegal acts of aggression against its sovereignty."
Williamson added that the UK will be offering support and mentoring to the Ukrainian Navy by deploying training teams from the Royal Navy, Royal Marines and the Army in January and March. Since 2015, British personnel have trained over 9,500 servicemembers of the Ukrainian armed forces.
Separately, the U.S. State Department pledged Friday that it will provide the Ukrainian Navy with $10 million in funding to improve its capabilities. "The United States calls on Russia to immediately return to Ukraine the seized vessels and detained Ukrainian crews, to keep the Kerch Strait and the Sea of Azov open to ships transiting to and from Ukrainian ports, and to respect Ukraine's sovereignty and territorial integrity," said the State Department in a statement.