Cap-and-Trade Grant Funds LA Terminal Improvements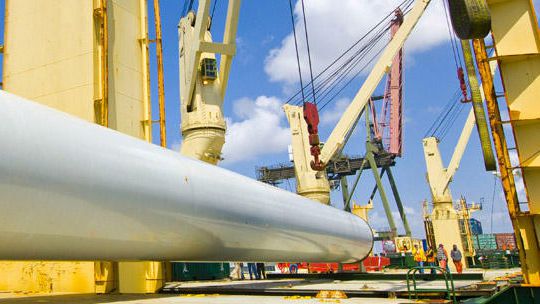 Pasha Stevedoring and Terminals and the Port of Los Angeles have announced plans for a low-emissions port facility which they suggest will be the "world's first marine terminal able to generate all of its energy needs from renewable sources"
"This is a Wright Brothers moment," said Jeffrey Burgin, Senior Vice President of Pasha. "We're going to be the proving ground to change the paradigm of how large industrial facilities can run on clean energy. We're confident we can show this is absolutely attainable."
The 40-acre terminal in Los Angeles is used for break bulk and project cargo, and the new initiative will outfit it with electric-powered cargo handling equipment, including four yard tractors, two 21-ton forklifts, two drayage trucks and a top handler, plus charging equipment. A 1-megawatt rooftop solar power and battery storage system will be installed for site-generated electrical power. The site will also deploy the ShoreCat system for capturing exhaust pollutants while ships are berthed – an alternative to shore power approved by the California Air Resources Board (CARB).
Pasha and the Port of Los Angeles say that these upgrades will cut more than 3,000 tons of CO2 emissions and 30 tons of other pollutants from the terminal's operations – the equivalent of removing 14,000 cars from the road.
Implementation will be funded by $11 million from Pasha and $14 million from CARB's California Climate Investments grant program, which reinvests proceeds from California's greenhouse gas cap-and-trade auction system.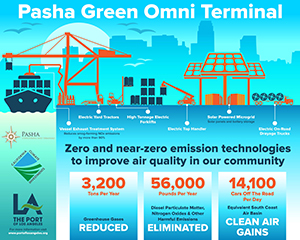 Work on the solar power system is expected to begin in June.
"It is exciting to see a project with so many emerging zero or near-zero emission solutions for handling and moving freight," said CARB Chair Mary D. Nichols. "These innovative clean technologies will help clean the air in port-adjacent and disadvantaged communities, and are at the heart of California's comprehensive effort to meet regional air quality and statewide climate goals."