Bourbon to Cut Crews and Sell 41 Ships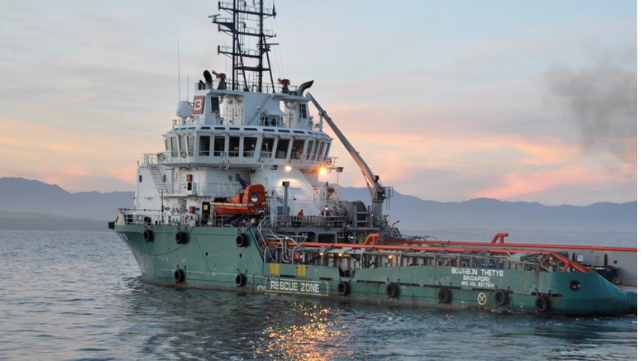 On Tuesday, leading OSV operator Bourbon announced that it is doubling down on restructuring to adjust to market overcapacity. Bourbon told investors that utilization of the world's offshore fleet is at just 55 percent, even less than in 2015 and 2016, and a third of the world's OSVs are stacked. These challenging conditions have had an impact on Bourbon's bottom line, and the firm's preliminary financial statements indicate a net loss in the range of $740 million for 2017, despite its efforts to control costs.
Since the downturn began in 2014, Bourbon has brought its opex down by 30 percent and reduced its capex by nearly 90 percent, eliminating its newbuilding program and slashing its maintenance costs. To adjust further, Bourbon intends to reduce opex by another 25 percent. A large part of this cut would come through a four-person-per-vessel manning reduction, which would allow for at least several hundred fewer licensed mariner positions if implemented across a planned "smart fleet."
Bourbon hopes to replace one officer per OSV with automated dynamic positioning technology, one junior officer per vessel through "onboard process simplification," and one more officer and one AB through the use of condition-based, predictive maintenance. The DP automation technology is under development in partnership with a leading marine electronics firm, and it is already in testing aboard the Bourbon Explorer 508. Ultimately, Bourbon envisages these developments as stepping stones towards vessel autonomy.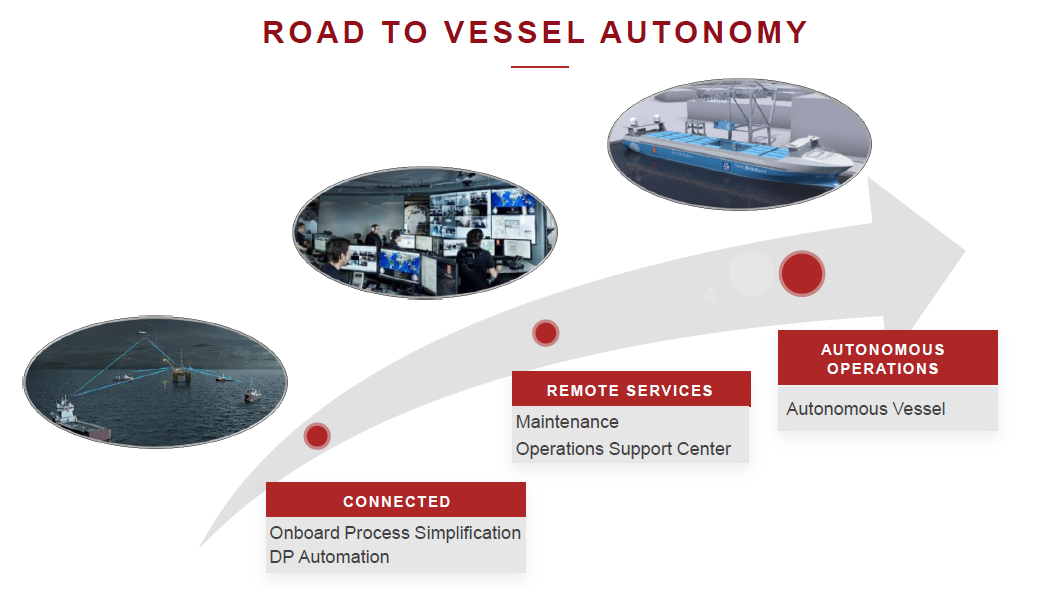 Courtesy Bourbon / Kongsberg
The cost-saving strategy also involves downsizing the fleet. Under a new master plan - dubbed BOURBONINMOTION - the company will sell 41 older, "non-smart" vessels, then invest in connectivity for 132 OSVs in its "smart fleet." At today's prices, the sale of the older assets is expected to result in an impairment of about $210 million.
"The crisis has highlighted the need to change our model and this is what the #BOURBONINMOTION plan is all about," said Gaël Bodénès, Bourbon Corporation's CEO. "As the market cycle has bottomed out, BOURBON must focus more than ever on operational excellence, fleet utilization rates, cost reduction program and free cash flow preservation. However, we need to go even further, because market overcapacity is driving prices down sustainably and we believe that tomorrow will look very different from yesterday."
The outlook isn't all bad: the firm's projections show global fleet utilization rising over the next few years and returning to about 80 percent by 2022, driven up by rising oil prices and rebounding offshore E&P activity. Bourbon already performs above the market in terms of utilization, vessel age and fleet size, and it sees itself as well-positioned to benefit when the market turns around.