Australia Announces New Pacific Security Center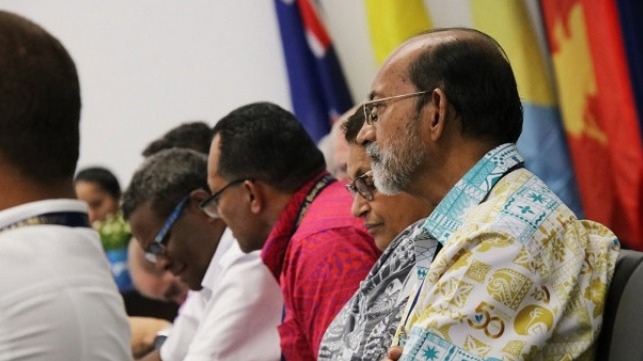 Australia has announced the establishment of a Pacific Fusion Center to strengthen the ability of Pacific governments to enforce their laws and protect their sovereignty.
Minister for Foreign Affairs Marise Payne confirmed plans for the new center during the Pacific Islands Forum in Nauru on Wednesday.
The new Pacific Fusion Center will provide strategic analysis of information to help strengthen maritime domain awareness and provide security alerts and advice for Pacific security agencies. The center will fuse information from multiple sources, including Australia, to equip Pacific decision makers with the information they need to better identify and respond to security threats, such as illegal fishing, people smuggling and narcotics trafficking.
The facility will be established in the region in mid-2019 and will complement Australia's A$2 billion ($1.4 billion) Pacific Maritime Security Program, which is providing 21 new Guardian-class patrol boats to the Pacific over the next five years and an aerial surveillance package.
Australia is also establishing an Australia Pacific Security College in 2019 to provide senior-level training, support strategic policy development and strengthen the networks among senior Pacific security officials.
The initiative follows repeated calls from Pacific leaders for improved information sharing to guide security responses, including in last year's Pacific Islands Forum Leaders' declaration.
Nauru is hosting the 49th Pacific Islands Forum from September 3 to 6. The Government of Nauru has chosen "Building a strong Pacific: Our Islands, Our People, Our Will" as the theme for this year's gathering which is being attended by 18 Pacific nations and delegations from non-member countries such as China and the U.S.
According to Reuters, the U.S., Australia, France and Britain aim to open new embassies in the Pacific, boost staffing levels and engage more frequently with Pacific Island leaders to counter China's rising regional influence.
China provided an estimated $1.78 billion in aid to island nations between 2006 and 2016.
During the Forum, Nauru's president Baron Waqa accused China's top diplomat of trying to use China's might to bully the tiny island nation during an altercation about who's turn it was to speak.