Armed Pirates Rob Two Offshore Vessels in Bay of Campeche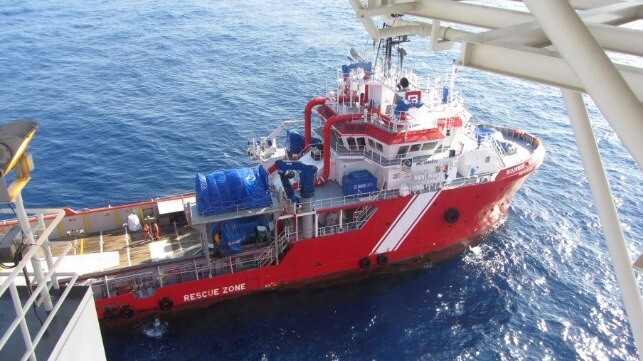 The offshore oil and gas sector in Mexico's Bay of Campeche is a longtime hotspot for armed robbery, often linked to organized crime. Armed pirates boarded two offshore vessels in two days on the 28th and 29th, according to local media, leaving the crew unharmed but making off with valuable equipment.
In the early hours of Thursday morning, a crew of six armed robbers boarded the AHTS / spill response ship Bourbon Alienor, operated by Bourbon's local subsidiary. They made off with SCBAs, tools, radios and other gear in a small boat, according to Tribuna Campeche. The attack was reported to the Mexican authorities at about 0245, and the Mexican Navy (Semar) responded within several hours to take a report.
The day before, a crew of pirates reportedly boarded the Bourbon Artabaze, operated by the same firm. No further details on the boarding were available.
Piracy and armed robbery are a frequent problem for state oil company Pemex and its contractors in the Gulf of Mexico. Criminal gangs target platforms as well as offshore support vessels on a regular basis; the number of actual incidents is believed to be greater than the number reported. Crewmember abductions have not been reported, but seafarers have been threatened, forced to help move stolen goods and (in the worst cases) injured. Rigs, production platforms and offshore vessels have all been targeted.
In early August, pirates robbed a manned semisub drilling rig in the Bay of Campeche, off the coast of Paraiso.
On July 16, three weeks earlier, a gang of audacious robbers called at five unmanned "satellite" offshore platforms in Campeche's Cantarell field complex. They looted the platforms for steel pipe, comms equipment, tools, cables, and pumps, among other items.
In late May, armed pirates boarded an offshore vessel near an oil field off Tabasco, making off with thousands of dollars worth of equipment - notably 35 SCBAs. They fired shots into the air to compel the seafarers to stay out of their way, crewmembers told local media, and they left after about 45 minutes of looting.
In April 2022, MARAD reported a cluster of pirate attacks near Dos Bocas and Ciudad del Carmen, Mexico, in the Bay of Campeche. Four reported attacks took place in this region between April 4 and April 14, according to MARAD, including incidents involving crew injuries and theft.
In late January, another group of pirates robbed the Ku Sierra platform in the Bay of Campeche, part of Pemex's core Ku-Maloob-Zaap field complex. They made off with 25 SCBAs, communications equipment, tools and other gear.