APM Terminals Now Using Drones for Safety and Security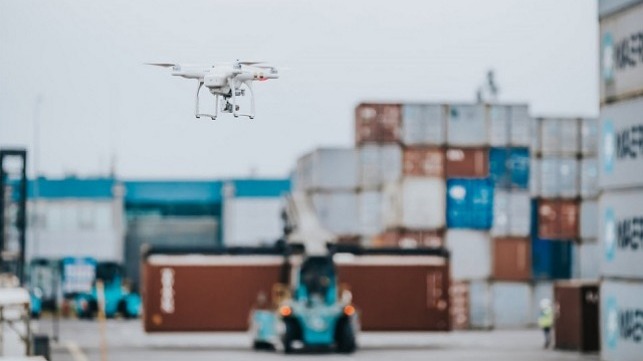 APM Terminals has started using drones for safety, security and to drive operational efficiency at the group's inland services facilities in San Antonio and Santiago, Chile.
The drones have been used to film the site's operations, monitor traffic flows and container stack efficiency as well as for observing unsafe behavior, such as truck drivers leaving their cabins. The drones can also perform previously dangerous tasks such as rooftop and crane inspections. Blind-spots between high-density container stacks now are totally visible, and the management team in Chile now has plans to systematically review all critical tasks using the drone.
Three drones are being operated, one in Santiago and two in the company's larger facility in San Antonio. This leaves safety supervisors on the ground to focus on workshops and areas with less machine traffic. Other risks, such as high container stacks, are also monitored.
Earlier versions of the drone were only equipped with a camera but now each unit has sensors for night-time flying as well as a speaker to communicate directly with people on the ground.
The drones are guided by geofencing - a route map for flying. The pilot has a live-stream view, so they can make phone calls to the necessary people or even fly in and use the speakers to inform a truck driver that they need to get back into their truck.
The use of drones expected to be rolled out at other APM Terminals' locations.