Alvin Submersible Makes 5,000th Dive
In November 2018, the research submersible Alvin made it's 5,000th dive. It has seen over 50 years of service to the ocean science and engineering community.
Alvin, the only deep-diving research submersible capable of carrying humans to the seafloor in the U.S., made the milestone dive during an expedition to the Guaymas Basin in the Gulf of California.
Officially commissioned June 5, 1964, the Navy-owned and Woods Hole Oceanographic Institution (WHOI)-operated sub has been through a series of upgrades and advances that have completely re-made the vehicle and vastly expanded its capabilities. The most recent, completed in 2013, saw the installation of a new, larger personnel sphere with a more ergonomic interior; improved visibility and overlapping fields of view; longer bottoms times; new lighting and high-definition imaging systems; improved sensors, data acquisition and download speed. It also doubled the science basket payload, and improved the command-and-control system allowing greater speed, range and maneuverability.
With seven reversible thrusters, it can hover in the water, maneuver over rugged topography, or rest on the sea floor. It can collect data throughout the water column, produce a variety of maps and perform photographic surveys. Alvin also has two robotic arms that can manipulate instruments and obtain samples.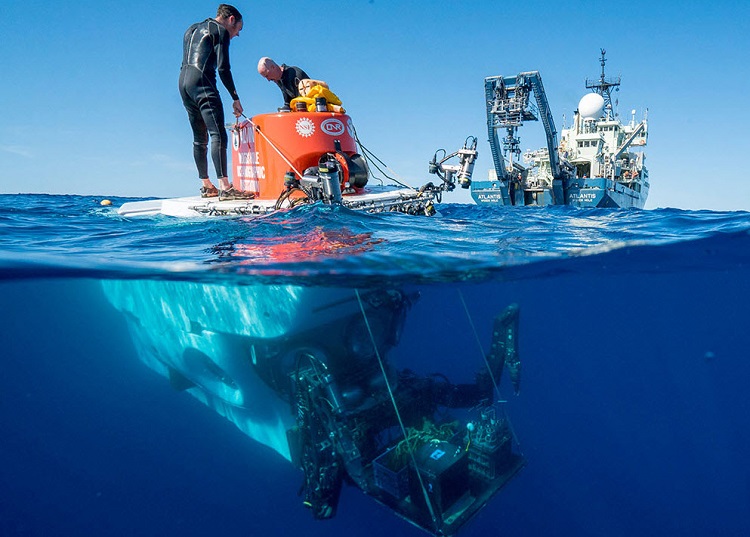 Credit: Luis Lamar, WHOI
On a 1977 expedition, scientists using Alvin discovered hydrothermal vents and viewed communities of deep-sea organisms for the first time. Out of the reach of sunlight, the communities were not fueled via photosynthesis, but rather by chemosynthesis, utilizing the chemicals flowing from the seafloor.
Alvin was used to recover a lost hydrogen bomb, explore the wreck of the RMS Titanic and examine impacts to deep-sea coral communities in the Gulf of Mexico following the Deepwater Horizon oil spill.
Alvin, which is supported by funding from the National Science Foundation, is one of only five deep-sea research submersibles in the world. The sub executes about 100 dives per year, and over its life has accounted for more than half of all of the scientific dives carried out by human-occupied submersibles worldwide.
Currently, Alvin reaches a depth of 4,500 meters (15,000 feet) on dives lasting up to 10 hours. It can be used to access about two-thirds of the ocean floor. The sub will soon complete the final phase of its current upgrade, which will enable it to dive to 6,500 meters (21,000 feet), putting 98 percent of the seafloor within its reach.
Alvin is named for Allyn Vine, a WHOI engineer and geophysicist who helped pioneer deep submergence research and technology.
Specifications
Length: 7.0 meters (23.1 feet)
Beam: 2.6 meters (8.4 feet)
Draft: 2.4 meters (7.9 feet) surfaced
Height: 3.6 meters (11.6 feet)
Operating Depth: 4,500 meters (14,764 feet)
Normal Dive Duration: 6-10 hours
Gross Weight: 20 metric tons (40,000 pounds)
Speed: 0-2 knots (0-2.3 mph)
Science Basket Payload: 181.4 kilograms (400 pounds)
Personnel Sphere Volume: 4.8 cubic meters
Personnel Complement: one pilot, two observers