After Accounting Scandal, Austal USA Hires Former Fraud Prosecutor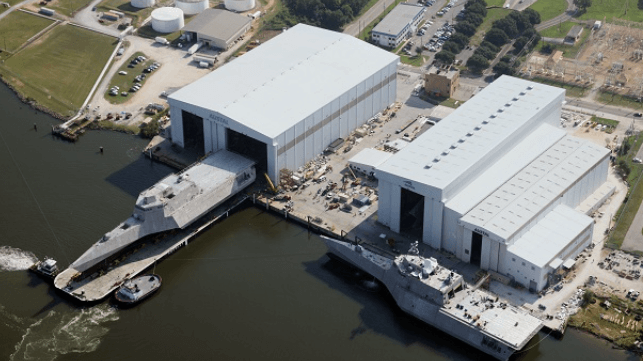 Austal USA has hired a former federal prosecutor with 10 years of experience on white collar crime cases to serve as its chief compliance officer. The new appointment may have relevance for Austal's current needs: the Justice Department recently indicted three former Austal USA executives on charges of accounting fraud during the early days of Austal's Littoral Combat Ship program.
Austal USA's new vice president of legal affairs and chief compliance officer will be Adam Overstreet, a veteran of the U.S. Attorney's Office for the Southern District of Alabama. For 10 years, he served in the office's criminal division and handled fraud prosecutions.
Overstreet also has relevant experience in shipbuilding. Most recently, he served as Ingalls Shipbuilding's senior counsel, where he led internal investigations for Ingalls and managed the litigation docket for HII's Mission Technologies Division.
The appointment also sends a signal. "Austal USA takes compliance with all laws and government regulations seriously," Austal USA President Rusty Murdaugh said in a statement. "Adam's deep and diverse experience in compliance, investigations, litigation, and federal procurement makes him well-suited to place Austal in the best position for continued success as a top maritime defense contractor."
Last month, the U.S. Securities and Exchange Commission indicted three former executives of Austal USA on charges of accounting fraud, including one individual who was a current employee until the day of the indictment.
The accused include the former director of Austal USA's Independence-class Littoral Combat Ship (LCS) program, William Adams; former president Craig Perciavalle; and director of financial analysis Joseph Runkel. They have been charged with five counts of wire fraud and four related charges; if convicted, the maximum possible penalties for each charge are measured in decades.
The three men stand accused of manipulating an accounting metric known as "estimate at completion" (EAC) for multiple LCS ships that Austal USA was building in 2013-2016. According to charging documents, reducing this metric inflated the reported earnings (EBIT) of Austal USA's publicly-listed Australian parent company, Austal Ltd., boosting the value of its stock.
In mid-2016, Austal USA was forced to admit that its costs on LCS were higher than previously disclosed. This led to an unexpected full-year loss of $120 million, down from a profit of $86 million the year before.
Alleged accounting scandal aside, Austal USA is at least as important to the U.S. defense industrial base now as it was in 2013. The Department of Defense has invested $50 million in infrastructure to add steel hull construction capability to Austal's all-aluminum lineup, and the shipbuilder is one of the main contenders for a follow-on yard contract for the new Constellation-class frigate (augmenting the production of the same design at Fincantieri Marinette Marine).