ABS, KSOE Plan New Study on Floating H2 Production off Korea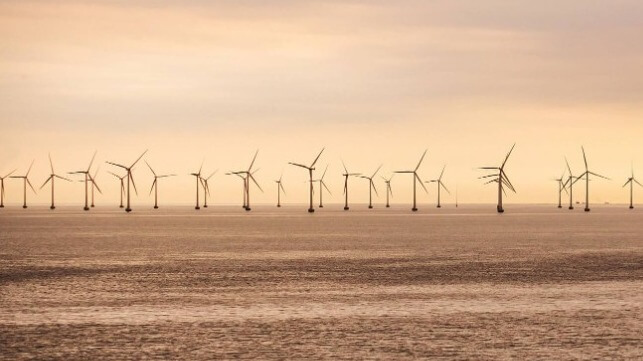 ABS and KSOE have announced a new study on the possibility of installing a near-shore floating platform for wind-powered hydrogen production off the coast of South Korea. The project builds on the expertise that the two firms developed through the design and approval of a floating hydrogen production platform last year.
Working together with specialty gas company Linde and the Korea Institute of Energy (Kentech), ABS and KSOE (an HD Hyundai subsidiary) will prepare a feasilibility study on developing a green hydrogen production and liquification facility at a near-shore floating platform utilizing offshore windpower. The study will be part of a broader report compiled by Korea's Jeolla Province on floating hydrogen production.
KSOE's design for an offshore green hydrogen production platform received an ABS AIP in 2022. It offers several options for the end-user, including hydrogen liquefaction, ammonia and methanol conversion for export.
"HD Hyundai Group is pleased to contribute to the development of the green hydrogen production platform through this MOU, utilizing our many years of experience with offshore platform technologies and liquefied gas carriers," said Sungjoon Kim, HD Hyundai Group Chief Technology Officer.
South Korea's government is enthusiastic about the prospect of developing green hydrogen production at scale as a way to increase domestic energy self-sufficiency, and it is investing billions in a future hydrogen-based economy. So are Korea's chaebols, which together have committed to investing $38 billion in hydrogen-related development.
In November 2022, Prime Minister Han Duck-soo announced a new national plan for a low-carbon hydrogen supply chain and hydrogen energy industrial base in Korea. The plan calls for 30,000 hydrogen-fueled commercial vehicles on the road by 2030 and a seven percent-hydrogen energy mix by 2036.
"The South Korean government is very engaged with the private sector, openly accepting feedback on policies and pro-market measures [for hydrogen]," said Joohyun Baik, Senior Manager in Commodities and Global Markets at Macquarie, in an analysis last year. "Other governments might learn from this approach."