Sea Shepherd Departs for Operation Icefish
The Sea Shepherd ship, the Bob Barker, is departing Hobart for the commencement of the organization's 11th Southern Ocean Defence Campaign, Operation Icefish.
After successfully championing the suspension of Japan's illegal whaling program in the Southern Ocean, Sea Shepherd will this year focus its efforts to directly intervene against the illegal fishing of Antarctic and Patagonian toothfish.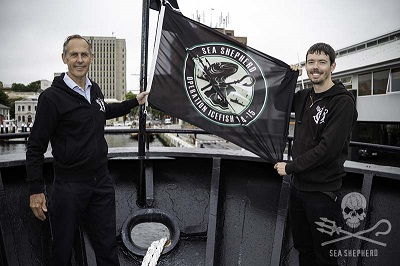 Captain of the Bob Barker, Peter Hammarstedt, said, "Our ships are once again preparing to take their place as the last line of defence to protect the precious marine life of Antarctica. This year, we will track-down the criminal profiteers who poach vulnerable toothfish, we will drive them out of their hunting grounds in the shadowlands of the Southern Ocean, and we will deliver them into the hands of justice."
Operation Icefish will see two ships patrol the Southern Ocean shadowlands. The second Sea Shepherd ship involved in the campaign, the Sam Simon, will leave Wellington to join the Bob Barker in the next week.
Both Patagonian and Antarctic Toothfish are unique long-lived icefish species that are particularly vulnerable to over-exploitation due to their slowness to reach sexual maturity and high market value. They are distinctive in that they live in Antarctic waters in depths of 300 to 2,500 meters; the coldest waters on Earth.
As a result of this freezing habitat the Antarctic Toothfish has evolved antifreeze-like proteins in its tissue, which with limited scientific research we still know very little about. Illegal fishing of toothfish has shown to have a devastating effect on toothfish populations, leading to collapse and closure of certain fishing areas.
"When the poachers are found, their gear will be confiscated and the fish will be returned to the ocean. Sea Shepherd will also work with the relevant law enforcement agencies internationally to have these vessels arrested and impounded and the vessel owners held responsible for their operations," says Captain of the Sam Simon, Sid Chakravarty.
"Our brave international crew will once again depart from Hobart, Tasmania, what is considered the gateway to one of the most beautiful places on earth, Antarctica. Yet they will not sail alone, for they take with them the hopes, aspirations and support from people all over the world, who are fed up with talk and broken promises, people who are crying out for the action in defence of the oceans." Jeff Hansen, managing director Sea Shepherd Australia.