SEACOR Ship Rescues Three From Plane Crash
SEACOR Island Lines' Sea Express II cargo ship rescued three plane crash survivors on Monday morning.
A few minutes after takeoff, it appeared fuel had stopped flowing to both of the aircraft's engines about 25 miles off the coast of Bimini. The Cessna 337's pilot spotted the Sea Express II, and made a soft landing a few miles from the vessel hoping that they had also been spotted.
All three passengers exited the aircraft safely with only minor injuries, just before it sank to the ocean floor. The crew of the Sea Express II did spot the plane flying low and acted immediately, arriving on scene 20 minutes after the crash to pluck the survivors from the ocean.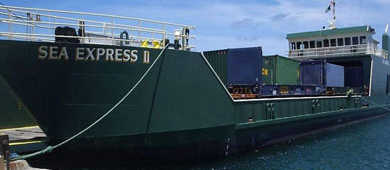 The rescued three were openly appreciative of the ship's crew and their hospitality; they were fed and hydrated aboard the vessel.
After their arrival in Port Everglades, the survivors were medically evaluated and were taken to the Port Everglades Fire Station.
Mike LaFleur, SEACOR Island Lines' CEO, said: "We are proud of our crew and grateful that the vessel was in the right place at the right time."