Mega Yacht Submarine Design Based on Zumwalt Destroyers
Designers Migaloo Private Submersible Yachts of Austria have designed private submersible superyachts as an alternative luxury cruising option to megayachts.
According to managing director, Christian Gumpold, the company is founded on the Mark Twain principle: "They did not know it was impossible, so they did it."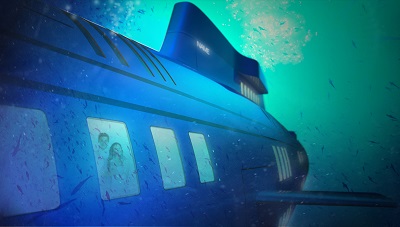 Gumpold and his team have worked both in the yachting and the shipbuilding industry globally before coming up with the idea of building large private submarines. Our ideas are the result of the ever increasing demand for personalization and individualization of super- and mega yachts and the focus on privacy for the owner and guests, he says.

Migaloo PSY handles the design, engineering and construction of the vessels that could range up to 225m in length. Exterior styling, interior design and overall length can be specified by the purchaser, and Gumpold works to DNV GL and U.S. Navy Subsafe safety standards.

"The Migaloo Private Submersible Yachts are the first alternative to super and mega yachts with the benefit of being able to submerge the whole yacht when the owner and guests want to keep their privacy during travelling or staying at anchor," says Gumpold. "In addition, on passages with rough seas, they offer calm travelling because submerged voyaging is now possible."
All models include the features and amenities of surface yachts of equal size, from spa-areas with Jacuzzis and pools to heli pads and large beach terraces. Additionally, there are tender bays for boats and mini-subs.
The company is currently offering four pre-designed and pre-engineered models from 72m up to 225m in length. Fully custom designs are highly appreciated and can be done by the in-house design department or can be provided by the owner, says Gumpold.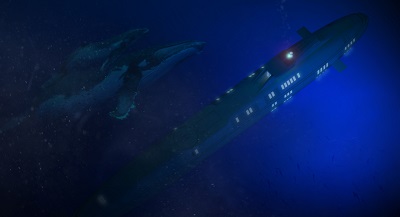 M2:
72m (236ft) Private Submersible Yacht
The M2 is a very versatile platform in terms of the interior configuration and layout arrangement and can include restaurant and bar layout for 24-36 guests, conference and business layout or private yacht layout.
M5:
135m (442ft) Private Submersible Yacht
The M5 provides three large viewing galleries: starboard (saloon), portside (dining) and on the bow (bar and lounge). Additionally:
• Heli pad, wet garage for two mini subs (12M) and two dry hangars for tenders and toys.
• Outdoor- pool/jacuzzi, gym, spa, cinema room, gaming room, wine room, library, elevator, several bars and semi-outdoor lounges.
• Owners apartment ~ 300 sqm on three floors including a private bow terrace, six VIP suites each ~ 65 sqm on two floors.
M6:
160m (524ft) Private Submersible Yacht
The M6 features a modern exterior styling including a reverse bow design, a heli pad and large centered tower as well as split-level viewing galleries.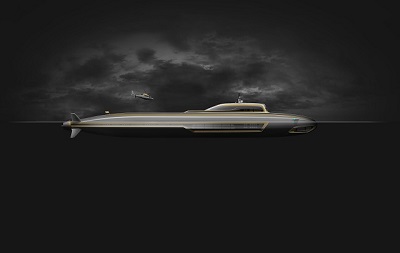 M7:
225m (738ft) Private Submersible Yacht
The M7 is the world's largest submersible superyacht design.
Its styling is inspired by modern Zumwalt-class destroyers.
• Length over all (LOA): 225m
• Beam: 32m, Draught: 8.2m
• Speed: 35-40 knots on the surface, 20 knots underwater
• approx. 2100 sqm owner area