Barrister Takes on Slavery at Sea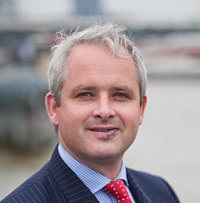 Children's rights are being abused in Africa as they are exploited for slavery and through trafficking. Children are also used in piracy acts off the coast of Somalia. But these are just some of the human rights violations at sea that UK Barrister-at-Law David Hammond is fighting to stop.
"There are ongoing refugee violations in the Mediterranean by Spanish forces firing tear gas and rubber bullets into the sea at refugees trying to enter the Cueta enclave. There is exploitation of Filipino fishing crews on South Korean vessels that fish in in the Southern Oceans as contracted by the New Zealand government," says Hammond, founder of the Human Rights at Sea (HRAS) initiative launched in April this year.
"We are also developing the UN Guiding Principles for Business and Human Rights (the "Protect, Respect and Remedy Framework", otherwise known as the "Ruggie Principles") in the maritime environment, which has never been done before. This goes to best practice, raising standards and accountability for human rights violations in the maritime industry."
Hammond has also set up a new international investigative service for independently investigating human rights abuses on a global scale, as well as an emerging lobbying function for the explicit addressing of human rights in policies and publications.
Hammond was in Germany this week where he welcomed the positive statement made by the President of the Federal Republic of Germany, President Gauck, in his opening speech at the annual Berlin symposium on international refugee protection that 'human rights apply on the high seas' and that 'the high seas are not a lawless area'.
Speaking in Berlin Hammond said: "I very much welcome President Gauck's affirmation of what is the founding principle of the 'Human Rights at Sea' initiative that "human rights apply at sea, as equally as they do on land" as applied in the context of ensuring that international attention is increasingly focused on human right's violations on the high seas".
The initiative is now underpinned by over 30 international supporting entities, collaborative partners and a growing network of international correspondents around the world.
David Hammond joined The Chambers of Anthony Berry QC and the 9 Bedford Row International (9BRi) Practice Group in February 2013. He is the author of the 100 Series Rules for the Use of Force (RUF) as the first international model set of maritime RUF for the maritime industry. He additionally acts as UK Counsel to the Libyan National Council for Civil Liberties and Human Rights (NCCLHR) in Tripoli where he drafted the "Declaration of Adoption of the UN Guiding Principles for business and human rights" in Libya as a first for such human rights development in North Africa.
Hammond is a former Royal Navy and Royal Marines' Officer, frontline naval helicopter pilot and head maritime lawyer to the United Kingdom's Chief of Joint Operations for counter?piracy matters among other sensitive issues. His international experience, clients and instructions now span North America, Africa, the Middle East and Asia. He also has a wealth of practical maritime experience having been a navigating officer, bridge watchkeeper and ship's boarding officer.