600-Square-Mile Iceberg Breaks Away From Antarctica's Brunt Ice Shelf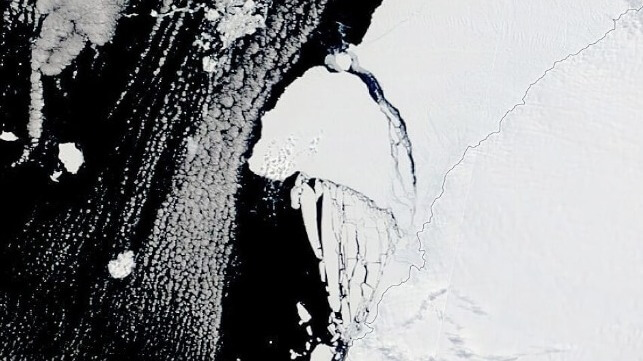 The British Antarctic Survey has released imagery of the calving of a massive, 600-square-mile iceberg from the Brunt Ice Shelf.
The giant sheet of ice, dubbed A81, has been slowly cracking away from the shelf for years, and its departure was long expected. In 2016, the BAS moved its research station on the Brunt Ice Shelf back about 15 miles from the crack in order to ensure its safety. The facility's original location was on the section that broke away Sunday evening.
"Our glaciologists and operations teams have been anticipating this event. Measurements of the ice shelf are carried out multiple times a day using an automated network of high-precision GPS instruments that surround the station. These measure how the ice shelf is deforming and moving, and are compared to satellite images from ESA, NASA and the German satellite TerraSAR-X," said BAS director Prof. Dame Jane Francis.
Before and after ????

Here's a super sharp view of the vast new #iceberg breaking away from the Brunt Ice Shelf in #Antarctica.

???? Sentinel-2 @CopernicusEU & thanks to @USGSLandsat for the before shot from 20 Jan. pic.twitter.com/PrtAwCvHTf

— British Antarctic Survey (@BAS_News) January 24, 2023
The event was part of the ice shelf's natural process and was not linked to climate change, BAS emphasized. However, a lack of sea ice could have contributed to the event, since sea ice exerts force against an ice shelf and offsets other forces that cause calving, according to the NASA Earth Observatory. The sea ice extent surrounding Antarctica is currently at the lowest level on record.
The Brunt Ice Shelf is also complex, glaciologists say, and its dynamics are still subject to research. "We have no solid idea what 'normal' really is for this unusual ice shelf," said Christopher Shuman, a glaciologist at NASA's Goddard Space Flight Center.