$170M Cocaine Bust Aboard Bulker Was Largest in Ireland's History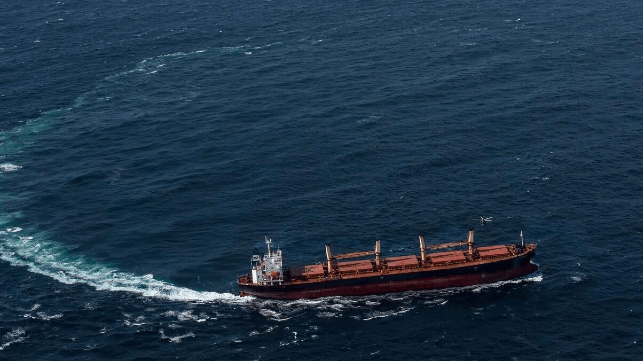 The at-sea interdiction of the bulker Matthew earlier this week turned out to be the largest drug bust in the history of Ireland, according to the Garda National Drugs and Organised Crime Bureau.
More than two tonnes of cocaine were pulled from hiding places aboard the 50,000 dwt bulker. The total shipment had a conservative value of at least $170 million. Given the size of the bust, the authorities believe that at least part of the shipment was likely headed to other markets after landing in Ireland.
The interdiction was an unusually high-stakes event: the Irish Navy patrol ship William Butler Yeats chased down the Matthew and fired warning shots after the vessel failed to comply with directions. In rough weather, as an Irish Air Force helicopter hovered over the bulker's bow, the bulker made a hard turn to port. Despite these challenging conditions, a team of Irish Army commandos fast-roped down onto the deck of the ship and took control of the vessel.
Seven men have been arrested in connection with the drug seizure, and the Garda Siochana (Irish national police) believes that there was likely an even larger criminal network involved in the onward transport and distribution of the shipment.
The action began when a trawler believed to be involved in a drug transfer with the Matthew ran aground on a sandbank. The two crewmembers were evacuated by helicopter, and the vessel remains stranded; it will be treated as a crime scene when authorities are able to board.
European law enforcement agencies are attempting to stem a rising tide of cocaine trafficking in the continent's ports and coastal waters. The European cocaine market is worth an estimated $13 billion (as of 2021), and criminal smuggling gangs have developed inventive new ways of getting it past customs. In addition to shipping it through the main gateways in Amsterdam and Rotterdam, they have branched out to second-tier port locations. In at least one unnamed EU harbor, according to Europol head Catherine De Bolle, an organized crime group had "everyone" on the port staff on payroll. At-sea transfers from large vessels to smaller trawlers or yachts have also become more common as smugglers seek to avoid the law enforcement presence in large seaports.
Ireland is no exception: it has Europe's highest rate of cocaine usage and the fourth-highest in the world. After the bust aboard the Matthew, top officials were at pains to emphasize that the government is working to make life difficult for traffickers.
"I think what's clear from this week's find is that Ireland is anything but a soft touch," Irish Justice Minister Helen McEntee told reporters Wednesday. "What [the seizure] shows is that we are very much in the game, that we are very much part of a joint effort to take down these organized crime gangs."
Sinn Féin leader Mary Lou McDonald called for increased investments in the chronically under-resourced Irish Navy in order to improve patrol and deterrence efforts.
"The truth is our naval services cannot as we speak monitor our seas effectively and this is due to decades of under investment," said McDonald. "At present, only two navy vessels can be put to sea at any one time and this is because of staffing shortages, and that in turn is because, despite all of the commendations that are regularly made, the reality is that personnel are not paid properly."