Drydock and Ship Repair Yard Being Developed in Jamaica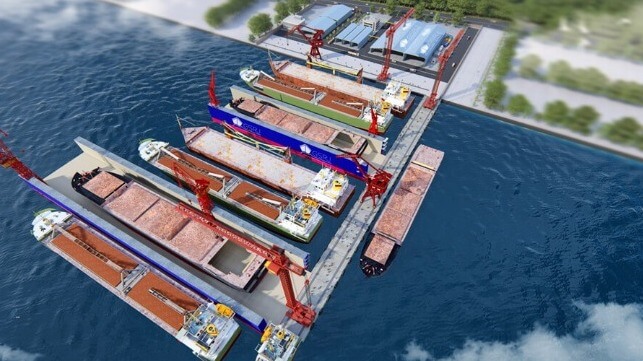 Efforts are proceeding to open a new ship repair yard and maintenance operation in Kingston, Jamaica. Government officials and the project sponsors highlight Jamaica's strategic position located near key routes serving the Caribbean, Central America, and ships using the Panama Canal. The yard is expected to provide good-paying jobs and importantly attract foreign exchange to the Caribbean nation.
Known as the German Ship Repair Jamaica Shipyard, the facility is expected to open by October or November 2023 providing a drydock capable of handling vessels up to 20,000 tons and a broad range of maintenance operations. The yard will have berth space to handle vessels up to approximately 705 feet in length.
The partners in the project include ship owner and operator the Harren & Partner Group and ship supplier the Kloska Group both from Germany. The partners are working with the HAT-SAN Shipyard in Turkey. They plan to invest approximately $37 million in developing the operation in Jamaica.
"With the investments that are being made in improving Kingston as a logistic hub, we are certain that we have now closed one of the major gaps that have existed and that more ships passing through the region will be inclined to come to Jamacia," said Andrew Holness, Prime Minister of Jamacia, during a tour of the site.
The officials pointed out that Jamaica receives approximately 3,000 port calls annually. They estimate that there are approximately 180,000 vessels that operate in the area and pass by Jamaica annually.
The first phase of the project will see the yard's floating drydock, JAM-Dock 1, become operational. They are also currently hiring and training workers for the yard's steel fabrication and engine workshops. The yard expects to employ around 100 people.
The shipyard reported that it has already booked its first customer. A heavy lift vessel, the Mexican Giant (6,700 dwt) is scheduled for two weeks of maintenance. The vessel is currently operating from the port of Ciudad Del Carmen in Mexico supporting the Ichalkil oil field operated by Lukoil.