Report: Unsafe Practices at Maersk's Ship Recylers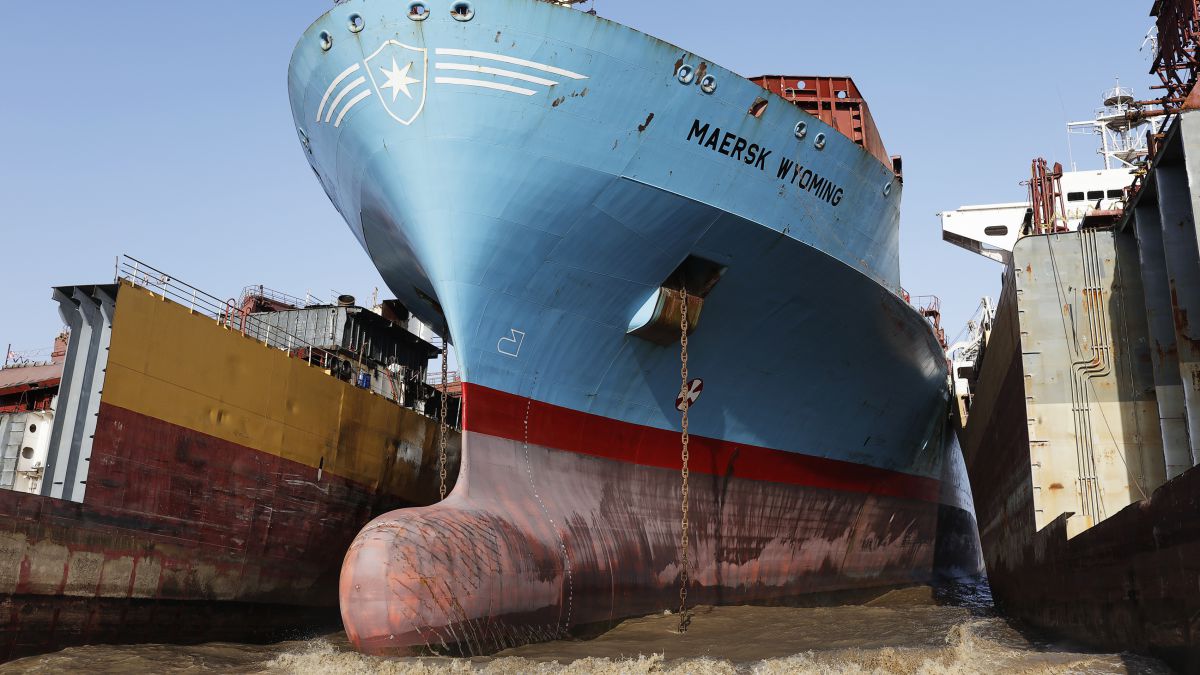 On Thursday, Danish investigative journalism center Danwatch released the results of an undercover inspection of Shree Ram, the Alang shipbreaking yard recently contracted to scrap Maersk vessels. The inspection report and accompanying photos, as evaluated by independent safety experts, suggest that Shree Ram does not meet international safety standards.
In February, Maersk announced an initiative to scrap aging ships at Hong Kong Convention-certified yards in Alang, India, reversing its longstanding policy against the use of beaching.
Yards in Pakistan, Bangladesh and India recycle the overwhelming majority of the world's tonnage by driving ships onto the beach and breaking them by hand. By keeping overhead low, these yards are able to pay more per ton for scrap. Maersk argued that it would improve its bottom line by $150 million if it sent ships to upgraded yards at Alang – an important consideration at a time of weak earnings.
Maersk's plan centers on its own work in the accreditation and improvement of the yards where it intends to send its ships – for now, primarily Shree Ram, which is currently scrapping the container ships Maersk Wyoming and Maersk Georgia. Maersk has organized yard tours for European regulators and advocated for the inclusion of certain beaching yards within the scope of the EU's new ship recycling certification requirements. It has written an extensive set of contractual guidelines for scrapping its ships, and it says that it maintains its own representatives at Shree Ram to ensure that work is done in accordance with all requirements.
However, despite Maersk's preparations and its past assertions that scrapping at Shree Ram would be conducted responsibly, Danwatch says that an unauthorized visit to the yard found questionable practices, including:
- unsafe rigging of cutting gas supply lines along the beach, a risk factor for explosions;
- a lack of appropriate personal protective equipment, including the absence of safety glasses, earplugs or respirators;
- flammable clothing worn during cutting operations;
- unsanitary living conditions for workers in the nearby community;
- limited medical facilities to treat the wounded;
- and a lack of formal contract papers with shipbreaking workers.
Danwatch passed its findings and photographs to four credentialed reviewers, who said the evidence suggests potential violations of the Hong Kong Convention at Shree Ram. Several suggested that the conditions depicted in Danwatch's photos were immediately hazardous and would trigger a work stoppage in a European facility.
Annette Stube, Maersk Group's head of sustainability, acknowledged some of these findings. She told Danwatch that "we agree that the photos show that our requirements are not being met. The situation is being addressed by the shipyard." However, working conditions aside, she asserted that Maersk is quite certain that all Shree Ram workers have labor contracts.
The opinions expressed herein are the author's and not necessarily those of The Maritime Executive.