Ezra Christens Subsea Construction Vessel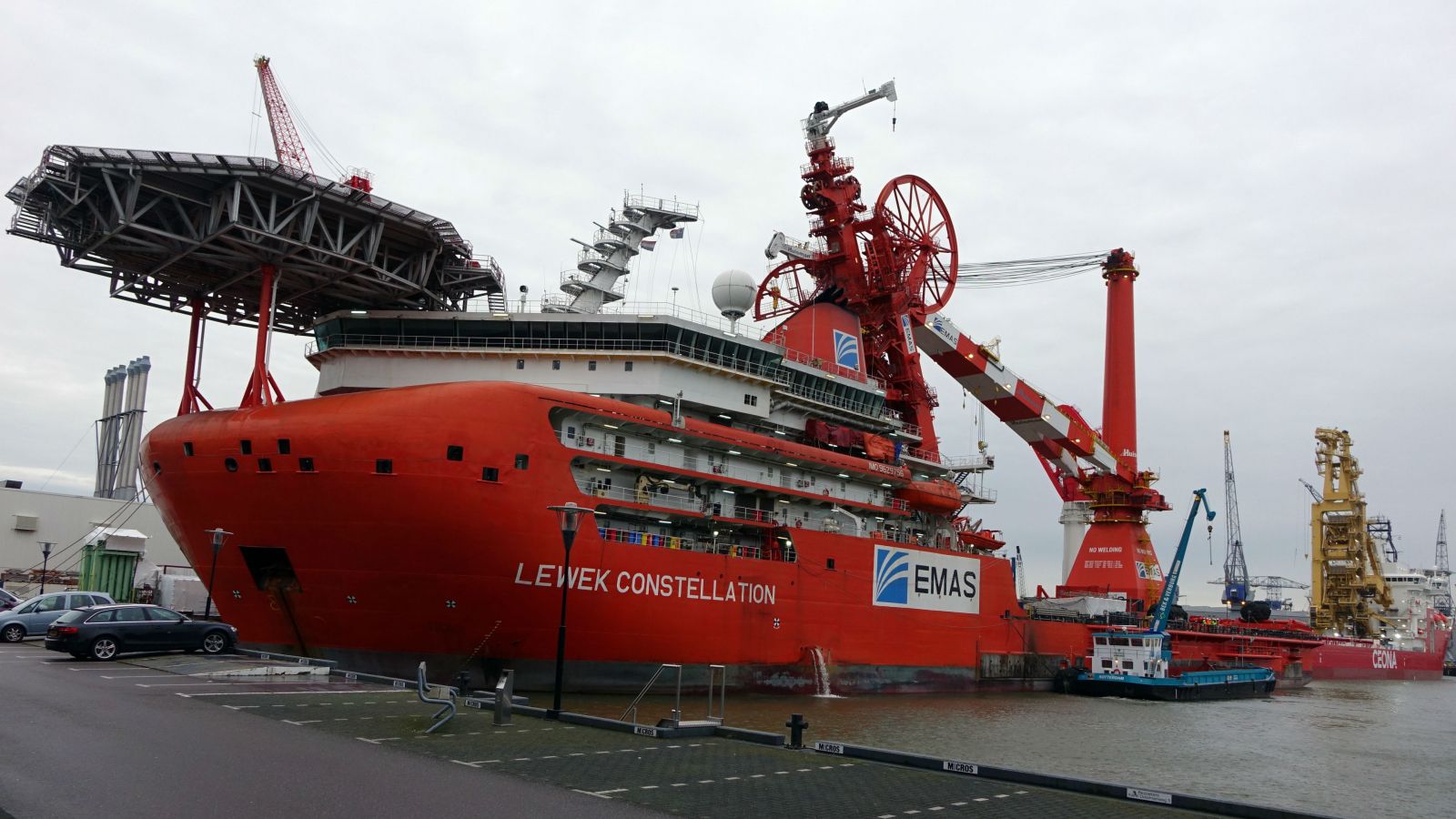 Singapore-listed Ezra Holdings, a leading contractor and provider of integrated offshore solutions to the oil and gas industry, has officially christened and named the Lewek Constellation prior to her departure to the Gulf of Mexico to commence work for Noble Energy.
The Lewek Constellation, an ice-classed, multi-lay offshore construction vessel with ultra-deep water pipe laying and heavy lift capabilities is EMAS AMC's flagship project-enabling asset.
Lewek Constellation was initially conceptualized in 2009 and its hull was successfully launched in 2012. It measures 178.27m by 46.0m, and features all single berth cabins, and is designed to deliver complex projects in a safe, efficient and reliable manner in water depths exceeding 3,000m.
Additionally, the Lewek Constellation is only one of two vessels in the world in its class achieving the highest environmental and comfort notations, with an ice-classed hull capable of transiting through 0.8m of ice and a technologically advanced DP3 system. It also comes equipped with an 800mT Huisman multi-lay system that is able to support both rigid and non-rigid pipelines, a 3,000mT Huisman offshore heavy lift crane, two Schilling workclass remotely operated vehicles and a unique portable reel system which significantly reduces mobilization time.
"I am extremely delighted and proud that our flagship vessel, Lewek Constellation has achieved her final milestone before she turns fully operational in 1Q2015. From initial conception to delivery, Lewek Constellation has been a concerted effort by our global team, from design to project management," said Lionel Lee, Ezra's Group CEO and Managing Director.
"I would like to thank the many people who have made this happen – the teams in EMAS AMC and TRIYARDS, Huisman and our co-lead banks DBS and DNB," added Lee.
"I would also like to express my deepest appreciation to Noble Energy, for giving the Lewek Constellation her inaugural pipe-lay projects. The projects in the US Gulf of Mexico will be the perfect platform to showcase the Lewek Constellation's capabilities as a world-class pipe-lay vessel."
The group has secured a healthy backlog of approximately US$500 million with Lewek Constellation and it is slated to begin work for Noble Energy in the first quarter of 2015 with its work schedule extending well into 2016 and beyond.
The products and services herein described in this press release are not endorsed by The Maritime Executive.