Coltraco Ultrasonics Single-Echo & Multi-Echo Portagauge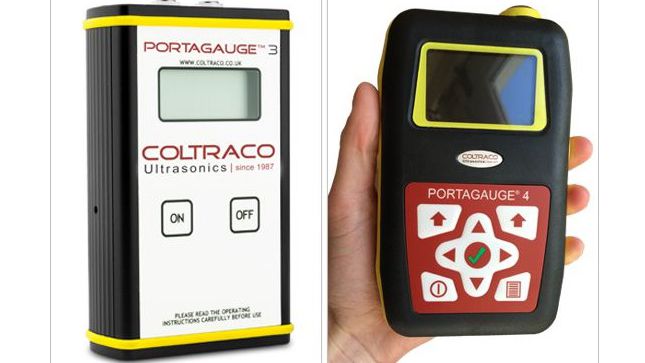 Portagauge™ 3
Coltraco Ultrasonics would like to present the single-echo Portable Ultrasonic Thickness Gauge, Portagauge ™ 3, as part of their collection of accurate, reliable and easy to use safety instrumentation. The quick, simple and hardy Portagauge ™ 3 allows accuracy of ±0.1mm even on corroded, challenging and some plastic surfaces. With a 50 hour battery life, measuring thickness ranges between 1.5mm to 99.9mm and a variety of verified testing materials such as steel, quartz, and glass PVC, the Portagauge™ 3 provides the great amount versatility needed to suit a diversity of safety needs. The handheld highly dependable unit is ideal for a wide range of industrial applications such as fire cylinders, bulk heads, pipework, chemical equipment and oil storage tanks. Widely used in the shipping industry and known as the "low cost Marine Superintendents Thickness Gauge", the Portagauge™ 3 is now joined by the multiple-echo metal-only Portagauge™.
Portagauge™ 4
Adding to the successful the single-echo Portable Ultrasonic Thickness Gauge Portagauge ™ 3, Coltraco Ultrasonics are excited to announce the release of the Portagauge™ 4. The multiple echo Portagauge™ 4 offers unparalleled accuracy in taking metal only corrosion readings. The Portagauge™ 4 is precise, offering an accuracy to ±0.1mm and is able to ignore surface coatings such as paint. With easy calibration and no zero-ing required, the Portagauge 4 is ideal for effective and efficient thickness gauging applications, on-board ships by marine superintendents. The large color LCD Numeric Digital Display and the soft molded rubber casing makes the Portagauge™ 4 robust and user friendly. The variety of sensor options and underwater variants offered by the Portagauge 3 and 4 range, means that they can easily be adapted to a variety of different safety roles and requirements.
The products and services herein described in this press release are not endorsed by The Maritime Executive.