Brieda Cabins Launches Control Station for Remote Crane Operations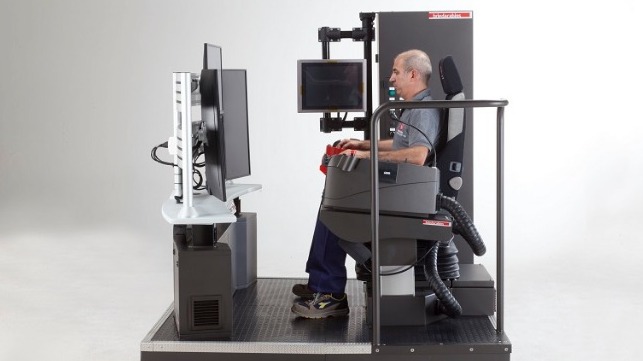 Brieda Cabins, a specialist in ergonomic cabins, control stations and desks for manned and remotely-operated cranes, has developed a ground control station to operate ship-to-shore cranes remotely with an ergonomic design and user-friendly interface that will boost productivity at container terminals.

The Remote Ground Control Station (RGCS) has been specifically designed to operate ship-to-shore container cranes, with a layout that combines the crane control seat and an arm box control panel with a remote desk that can be customised to present specific information on screen, enhancing communication between teams and boosting operational efficiency.

"We are very pleased with this design, which continues our proud track record of focusing closely on how best to combine comfort, convenience and safety through ergonomic design" said company CEO Siro Brieda.

The RGCS uses a similar crane driver seat and control system to the DYCS – Dynamic Control Station and the Brieda Remote Control Desk. These have both achieved world-first certification to International Organization for Standardization (ISO) and European EN ergonomic standards.
Development has taken place over 12 months, driven by the needs of Brieda client the Port of Virginia, USA. The port is in the process of transforming from a classic crane operation to a fully remote system, including ship-to-shore cranes. The new control room at the Port of Virginia now has five RGCS systems installed for remote operation.

The port will take experienced ship-to-shore crane operators and move them to a remote environment and expects this new system will benefit its crane drivers by enhancing their work environment, reducing strain and boosting comfort.

The RGCS offers a bespoke work environment thanks to its ergonomic adjustable seat and workstation, enabling operators of different heights and body shapes to be fully supported in a safe, comfortable and healthy working position.

The RGCS has been designed so it can be delivered in three parts, which means that it can be easily moved to a central control room and set up in just 30 minutes. The system is now ready to be rolled out more widely to ports that are looking to drive efficiencies by boosting the use of automation throughout their operations.

"We are delighted with how the pilot has gone with the Port of Virginia and look forward to rolling this product out more widely now," continues company CEO Siro Brieda. "Our consistent focus on R&D, product innovation and the needs of our clients produced this latest development. We will continue to drive our business forward as we look to develop high-quality control systems that improve the health, safety, wellbeing and productivity of crane operators."
The products and services herein described in this press release are not endorsed by The Maritime Executive.