Becker Marine Breaks New Ground with COBRA Maritime Battery System
The market for alternative propulsion systems in the maritime industry is experiencing continuous growth. Hamburg-based Becker Marine Systems response to this is a separate product division, in which the COBRA battery system is being developed. Initial experiences have been positive, and the Wattentaxi is already a successful reference project.
"The Wattentaxi uses a redundant parallel hybrid drive system with two diesel engines and two battery systems. It can be operated both fully electrically or by diesel. Last summer we outfitted the Wattentaxi for this and used the autumn and winter for further development and sea trials. It has been in regular operation on the North Frisian Wadden Sea since spring 2018. COBRA is fully functional and we are getting very good feedback," says Godehard Gauf, Director of Battery Systems, the up and coming product division at Becker Marine Systems.
Becker Marine Systems' new production facilities are located in Winsen an der Luhe. On the outskirts of Hamburg, the world market leader for high-performance rudders and energy-saving solutions in the field of manoeuvring technology has been developing the COBRA maritime battery system for a year now. Approximately 15 new jobs for the production of efficient batteries based on lithium-ion cells have been created thus far.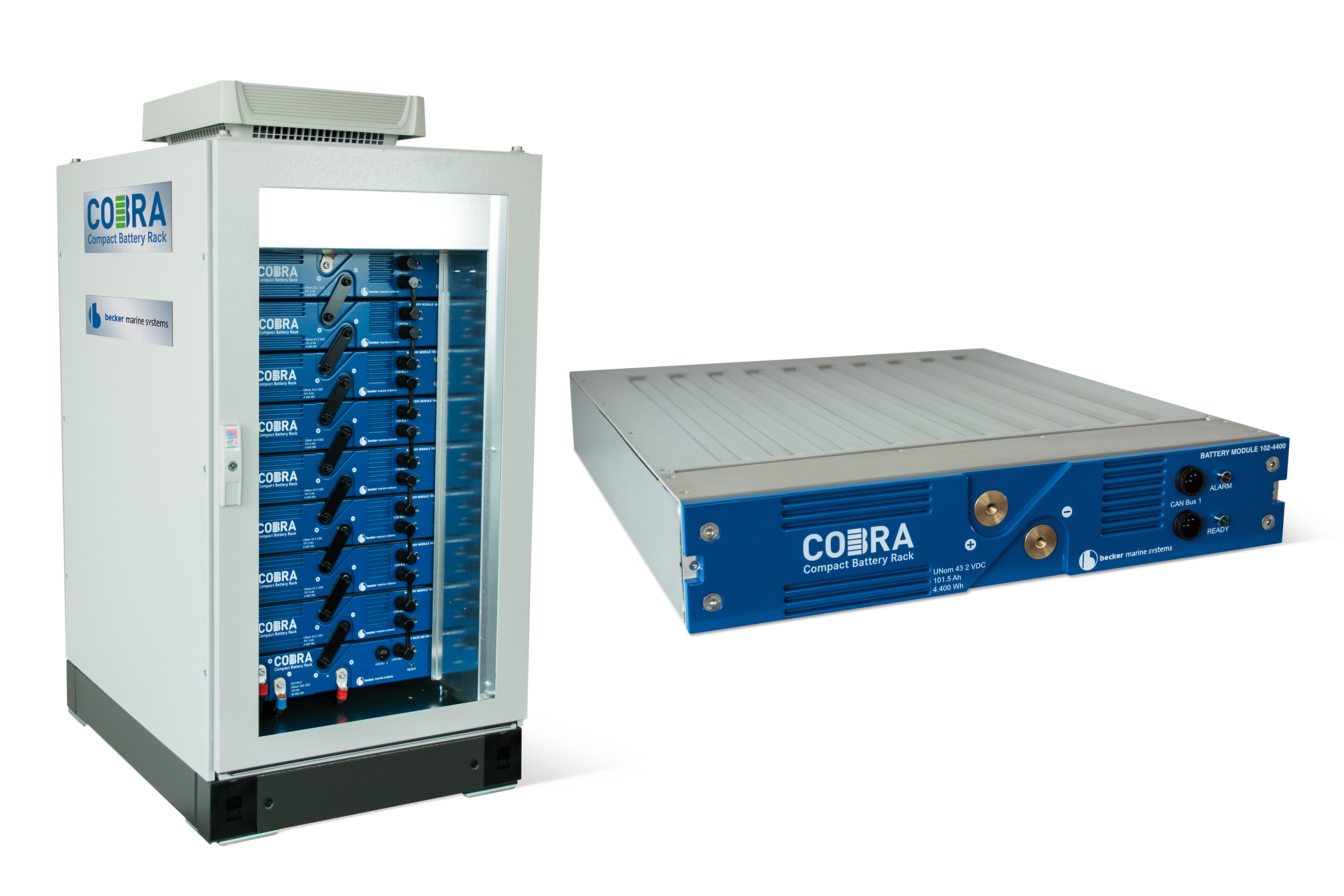 The name "COBRA" is an acronym for "Compact Battery Rack" and can be supplied as a separate system or combined with hybrid drives. "The name says it all, we want to offer a very compact battery system for the maritime market", says Gauf. COBRA is not only lighter and more compact than those offered to date by conventional battery suppliers, it is also easy to install on board.
"We want to produce the smallest system possible on account of the normal lack of available space in machine rooms", says Gauf. In addition to functionality, weight and size, however, the challenges in developing a new battery system also include issues such as safety, service life and price. The many enquiries coming in confirm that Becker Marine Systems is on the right path and can stand out positively from the rest of market. Many tests with prototypes under full load have already been conducted at our own facilities. These tests, including FAT acceptance as part of production, can be performed on the specially developed battery test stand.
In principle, the "Compact Battery Rack" can be used on all ships, such as in offshore supply, for harbour and workboats or for passenger ships and car ferries. It may also be of interest for larger cargo ships, particularly for newbuildings over the long term. The focus is on hybrid or all-electric drives as well as on compensation for load fluctuations ("peak shaving"). The market for this is growing strongly – and not just in countries like Norway where all-electric drives are subsidised.
Becker Marine Systems is also working on a "Liquefied Natural Gas" (LNG) based power supply ("cold ironing") for ships at port. The becker LNG PowerPac® shows that the company is strongly embracing the advantages of environmentally-friendly liquefied natural gas. The alternative fuel can be employed by placing these special containers directly on board ships. LNG can be cooled down to minus 162 degrees, highly compressing it, making space-saving storage possible.
The products and services herein described in this press release are not endorsed by The Maritime Executive.