Women's International Shipping and Trading Association (WISTA) elected Despina Panayiotou Theodosiou, CEO of TOTOTHEO Maritime, as International President at the organization's 37th International Annual General Meeting in Rotterdam on October 4.
Despina Panayiotou Theodosiou is the CEO of TOTOTHEO Maritime, a leading maritime technology and satellite communications enablement business. She has served on the Executive Committee of WISTA International as Secretary for the last two years and is the founding President of WISTA Cyprus. Panayiotou Theodosiou is on the board of the Cyprus Shipping Chamber.
She is taking over the position from Karin Orsel, CEO of MF Shipping Group, who has held this role for the last six years.
"WISTA is a networking association, it is about meeting people, and let's not forget the T in our name," said Panayiotou Theodosiou. "Trading means meeting people. Connecting and seeing what business you may have in common. There's two other T's that have a strong influence over our industries. One is Tradition. The other is Technology.
"I am a firm believer in both, I believe in the respect for tradition and in the future of technology. I believe in values, but encompassing change and making it our own. As the head of a forward-thinking business, I work closely on the cusp of change, looking at the technology developments, the inventions, the trends.
"I listen to many influential, intelligent and inspirational people in this industry, and I see how committed they are to evolve and modernize shipping. Some have a foot firmly in tradition, others do not. Both should be equally welcome.
"But this is most certainly a period of societal change, and WISTA should be there as a voice to be listened to. This is about change with a sense of purpose. Change can be good for diversity and for women in the industry, and the purpose of WISTA must be kept relevant."
On a more personal note, she said: "I have a career that I dreamt of, but it has not made me slow down. I like to challenge myself every day. For me it is important to seek self-development at every turn, to assume there is something you do not know, and there is more that you can do. Life is more than making an income, it is about making an impact, and I feel I have the privilege, honor, capacity and opportunity to do that, and I think these are some of the values I would like to infuse into our international association."
Diane Edwards, General Manager People, Systems and Technology Ports of Auckland was elected as International Secretary at the meeting. Working with the port since 2011 following a consultancy roll at the New Zealand Ministry of Transport and roles with P&O Nedlloyd and Maersk New Zealand, Edwards has had an eclectic career which includes teaching, banking, accounting, IT, training change management and human resources. In her six years with Ports of Auckland Limited she has helped revitalize the port through technological innovation and coalition building with the port workers.
WISTA International is the leading network of decision making women in shipping and trading around the world. WISTA International is guided by the Executive Committee: Despina Panayiotou Theodosiou, President, WISTA Cyprus; Diane Edwards, Secretary, WISTA New Zealand; Rachel Lawton, Treasurer, WISTA UK; Jeannie Grasso, Member, WISTA USA; Sangam Gupta, Member, WISTA India;Katerina Stathopoulou, Member, WISTA Hellas; Naa Densua Aryeetey, Member, WISTA Ghana.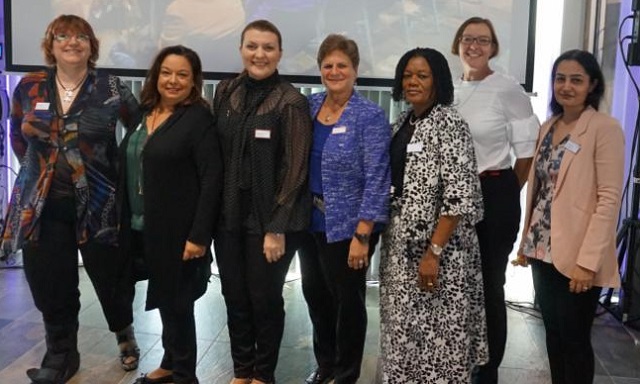 Representing nearly 3,000 members in 40 countries around the world, WISTA promotes increased competency, knowledge and development for women in the maritime industry. WISTA International members work in all sectors of the maritime industry, including finance, ship building, seafarers, governing and regulatory bodies, brokers and more. The International body meets annually to vote on protocols, guidelines and strategic direction. 32 countries were represented at the 2017 International Annual Meeting. More than 280 individuals attended the parallel conference on Future-Proof Maritime Solutions.