West Coast Longshoremen Approve New Contract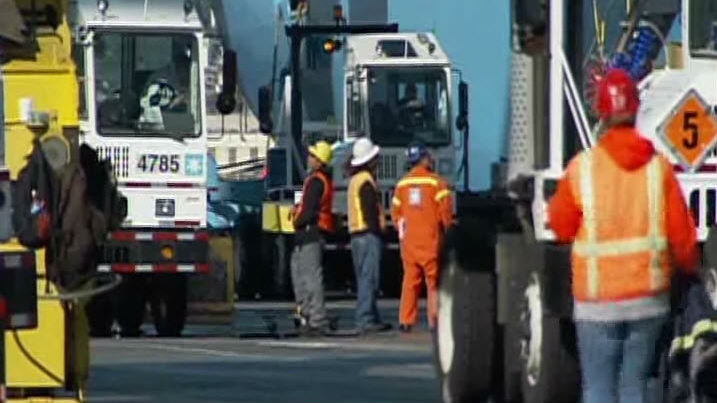 U.S. West Coast Longshore workers have overwhelmingly voted to ratify a tentative contract agreement reached in February with employers represented by the Pacific Maritime Association (PMA).
Members of the International Longshore and Warehouse Union (ILWU) voted 82 percent in favor of approving the new 5-year agreement that will expire on July 1, 2019. The previous contract was ratified in 2008 with a vote of 75 percent in favor.
Voting results were certified today by the ILWU's Coast Balloting Committee, which was chosen by Coast Longshore Caucus delegates elected from each of the 29 West Coast ports.
"The negotiations for this contract were some of the longest and most difficult in our recent history," said ILWU International President Robert McEllrath. "Membership unity and hard work by the Negotiating Committee made this fair outcome possible."
The new agreement provides approximately 20,000 good-paying jobs in 29 West Coast port communities. The contract will maintain excellent health benefits, improve wages, pensions and job safety protections; limit outsourcing of jobs and provide an improved system for resolving job disputes, said ILWU in a statement.
Long Beach Board of Harbor Commissioners President Doug Drummond has praised the result. "I would like to heartily congratulate the men and women of the International Longshore and Warehouse Union on their approval today of the new West Coast labor contract for ports including Long Beach. I would also like to extend my congratulations to the companies of the Pacific Maritime Association for their approval of the contract.
"This new pact is terrific for management and labor, and proves that by working together, we can build a partnership that will continue to help to improve this economy and provide jobs all across the United States.
"I'd also like to thank Long Beach Mayor Robert Garcia and Port CEO Jon Slangerup for their part in urging everyone to reach this mutually beneficial agreement.
"On behalf of the Port of Long Beach and the Long Beach Board of Harbor Commissioners, this is a job well done. We all look forward to many years of strong and fruitful efforts to keep trade moving."
The National Retail Federation's Vice President for Supply Chain and Customs Policy Jonathan Gold, said: "At long last the year-long contract dispute between the ILWU and PMA has come to an end. Shippers can rest a bit easier knowing that the West Coast ports will be more stable over the next few years. While we are happy to see the contract ratified it's not going to be long before we are going through this process all over again.
"The past year was fraught with disruptions, slowdowns and partial shutdowns. This is something we will no longer tolerate. The world is changing, and our ports must adapt to ensure they provide shippers with the predictability and stability they need. We can no longer accept last-minute negotiations and months and months of talks while slowdowns and stoppages disrupt the global supply chain and international trade.
"Negotiators need to begin their talks early enough to have an agreement in place well before another contract expires without active or passive threats to the economy and the millions of jobs dependent on our nation's ports and supply chain. The current process is impractical and unsustainable and fails to meet even the most basic requirements of a modern, global supply chain.
"A new process is needed for labor and management on both coasts. Stakeholders cannot afford to go through this process every couple of years. We need a new system in place that benefits all parties and provides for the efficient transportation of the nation's cargo and commerce."