Vega Faces Penalty for U.S. Ballast Water Release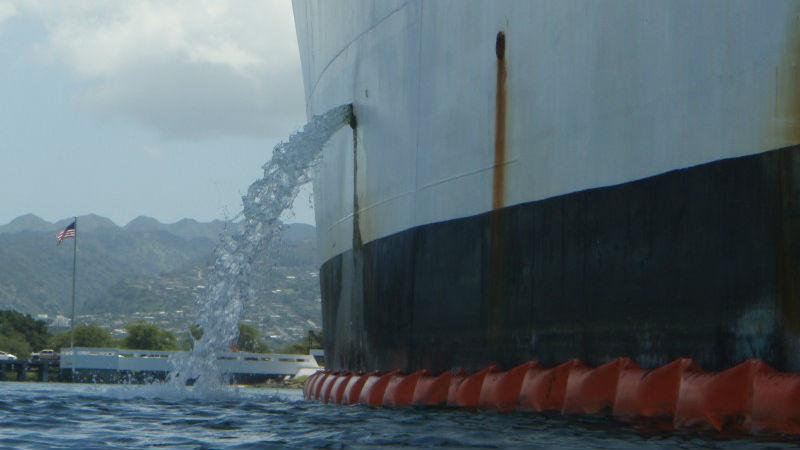 The U.S. Coast Guard has initiated civil penalty proceedings against the operator, Vega Reederei GmbH & Co. KG, after an investigation into ballast water discharge violations by the bulk carrier Vega Mars.
Investigators found that around January 29, 2017, while moored in Tacoma, ballast water was discharged from the 580-foot Liberian-flagged vessel without the use of a Coast Guard approved ballast water management system or other approved means, a violation of the National Invasive Species Act with a maximum penalty for $38,175.
It is the responsibility of vessel masters, owners and operators to ensure the proper discharge of ballast water into any water within U.S. jurisdiction, or to ensure proper waivers or extensions are processed through the Coast Guard's Office of Operating and Environmental Standards.
The Coast Guard has established a ballast water discharge standard which is the same as that adopted by the IMO in 2004. In addition, the U.S. EPA 2013 Vessel General Permit has adopted numeric limitations of ballast water organisms that affect all vessels that operate in U.S. waters. The regulations mean that vessels are required to install and operate a treatment system before discharging into U.S. waters.
The U.S. Coast Guard Type Approval process for ballast water treatment systems is more stringent and rigorous than the IMO process. As a result, many existing IMO Type Approved systems may not meet U.S. requirements and will require retesting or redesign. The Coast Guard has created an Alternative Management System process so that these systems may be used on a vessel for up to five years.
"The Coast Guard is committed to the protection of the marine environment through strong and robust administration and oversight of ballast water management practices," said Capt. Joe Raymond, commanding officer, Coast Guard Sector Puget Sound. "These efforts are in line with the recent [type] approval of four different ballast water management systems."
In December, the Coast Guard Marine Safety Center issued the first U.S. Coast Guard Ballast Water Management System Type Approval Certificate to Norwegian manufacturer Optimarin. The Optimarin Ballast System is a filtration/ultraviolet ballast water management system with treatment capacities ranging from 167m3/h to 3000m3/h. Most recently, Alfa Laval gained U.S. Coast Guard type approval for its new ballast water management system.
In conjunction with the first type approval certification, the Coast Guard released Marine Safety Information Bulletin 14-16 which provides answers to frequently asked questions concerning the extension program, vessel compliance dates and the use of Alternate Management Systems.
As there are now U.S. type approved systems, operators can no longer request an extension to their waiver of regulatory requirements simply citing there is no Coast Guard type approved system available. Each extension request requires an explicit statement supported by documentary evidence that one of the accepted methods in the regulations, including installation of a Coast Guard type approved system, is not possible for purposes of compliance with the regulatory implementation schedule.