USS Shadwell: The Greatest Ship Never Known
Out of the ashes into the fire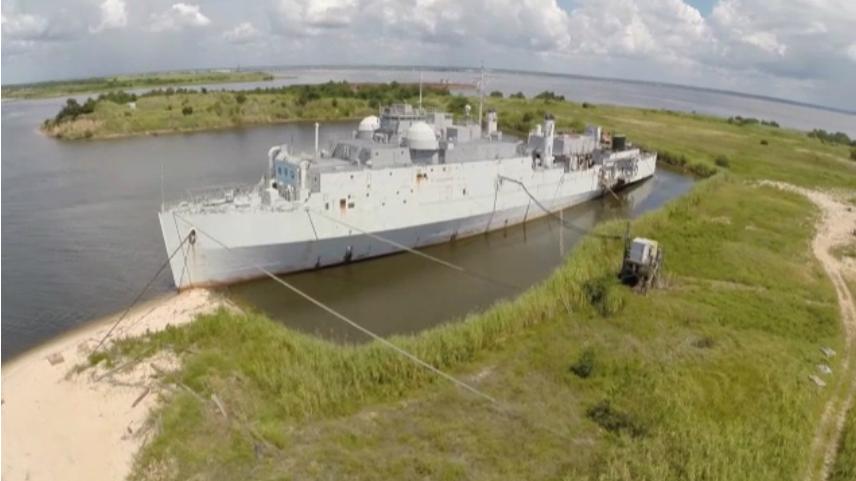 On the evening of January 24, 1945, about eight months before the end of World War II, USS Shadwell was sailing south of Siquijor Island in the Philippines when it was engaged by three enemy torpedo bombers.
During the battle, Shadwell was struck by a torpedo on the starboard side, tearing a hole in the ship's bottom 60-feet wide. The crew of 500 frantically worked to save the ship, but Shadwell was flooding, and sinking.
Shadwell's crew worked through the night to save their sinking ship. By morning they were under their own power, and no longer taking on water.
No lives lost. Three injured.
Their efforts were rewarded.
A Ship of Two Histories
Nearly 70 years later, Shadwell no longer patrols the waters of the Pacific; the ship is moored to a small island in the waters of Mobile Bay, near the historic Civil War naval battle site. Instead of being mothballed, sunk in target practice, or being converted to a museum ship, Shadwell is in the business of saving lives.
"Shadwell has got two histories, almost like a phoenix," said Hospital Corpsman 1st Class John Dalton, the ship's corpsman. "She had proud service in WWII, Korea, and Vietnam, and the work she's done for the Naval Research Lab, there's a proud legacy there. All of the Sailors that will live because of the research and development done aboard the ship-my goodness, it's as if she's had two lives."
Dalton, a reservist, has served 11 years aboard Shadwell and 22 years in the Navy. He's hit high year tenure, but he still volunteers to show up one weekend a month and two weeks a year.
To him, it's not about the money, or earning points toward retirement. It's about the camaraderie, the ship's history, and most importantly creating new history by helping save the lives of future Sailors.
"When Katrina hit the Gulf Coast (Shadwell) was beached, and the Navy wanted to scrap her," said Dalton. "We worked day and night to turn the ship upright and save her, because that's how strongly we believe in her mission. We have the power to save the lives of children who aren't even born yet."
At first glance, ex-USS Shadwell as it is now referred, is just like any other modern ship in America's Navy. It's gray and floats in the water, but that's where the similarity ends. The suffocating odor of smoke pervades the ship, its interior is rusted from years of exposure to the elements and charred spots are pockmarked throughout the ship.
One thing is apparent, this ship isn't about putting ordnance on target or deterring enemies; its sole purpose is to be burned.
Damage Control in an Era of Modern Weapons
The future of the Navy's damage control technology takes shape aboard Shadwell. Scientists from universities across America spend days aboard the ship perfecting or reworking robotics, techniques, and software developed over the course of years in their respective labs.
The stakes are high. Thousands of dollars, if not hundreds of thousands, are spent making sure these technologies and techniques are successful at saving lives, and making sure the ship is in deployable condition.
"When Sailors look at (firefighting) doctrine they say, 'Why do I do this, why do I do short-burst technique, why do I do all that,'" said ex-USS Shadwell director John P. Farley. "Because it has been accomplished in a real world environment under real fire conditions and this is what was found to be the best approach."
To understand the purpose of Shadwell, one must look to the past. In World War II, 85 percent of the ships that were hit survived and were able to maintain their combat mission. But in the 1980's, the Falklands War happened between the U.K. and Argentina. Of the 16 ships that were hit with functional weapons, six were lost.
"We had a dramatic turn in success rate, and of course the reason for that was the impact of modern weapons," said John P. Farley. "We had to rethink the practice of damage control in the era of cruise missiles and that's when the Shadwell came online. We need a full-scale fire test ship to test new tactics and technologies."
The damage control technologies developed since Shadwell was purchased in 1988 by Naval Research Laboratory have been nothing short of impressive.
Autonomous damage control systems, such as water mist fire suppression systems and high expansion foam generators can extinguish compartment fires in minutes, not hours, effectively improving a Sailor's situational awareness within damage control settings.
"Every time we burn, we learn," said Hung Pham, the ship's operations officer. "You can practice a new theory all you want in a lab, but once you light a fire, anything can happen."
Anything can and will happen, a phrase that perfectly describes the life of Shadwell, a ship that's been torpedoed, beached, and repeatedly burned and ultimately responsible for saving the lives of countless Sailors for the past 70 years.