U.S. Bill Aims to Boost Spending on Ports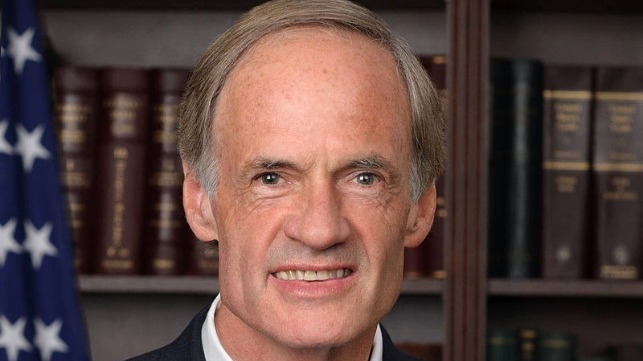 U.S. Senator Tom Carper (D-Del.) has introduced a bill (S.3587) to improve the nation's freight systems by making key investments in ports, railways and intermodal hubs by changing the funding arrangements in the Nationally Significant Freight and Highway Projects Program, which was created as part of Fixing America's Surface Transportation Act (FAST Act). The bill would allow ports and railways to compete for more grant funding from the Nationally Significant Freight and Highway Projects Program, or INFRA Grants.
"In the U.S., our freight network moves 49 million tons of goods every day, which are worth more than $52.5 billion," said Carper. "The economic importance of freight movement cannot be overstated, and our ports, railways, and intermodal hubs are a critical part of the multimodal freight system. Regrettably, as a country, we haven't been making investments in our national transportation system that we need to."
While the discretionary INFRA grants make critical investments in freight projects, they are largely limited to highway projects, he said. "My bill would remove this limitation and allow ports and railways to compete on equal grounds. We should be investing in the best quality projects that will keep our country moving, and that's what I intend to do with this bill."
The bill has been endorsed by the Coalition for America's Gateways and Trade Corridors (CAGTC) and the American Association of Port Authorities (AAPA).
"The American Association of Port Authorities strongly supports Senator Carper's legislative initiative that repeals the multimodal cap on the discretionary grant program created in the FAST Act," said AAPA President and CEO Kurt Nagle. "Sustainable multimodal funding is a top AAPA priority and the association greatly appreciates the senator's work to advance legislation that is both timely and very much needed."
Currently, of the $11 billion of freight funding provided in the FAST Act, only $1.13 billion is multimodal eligible, and of that, only $200 million in multimodal eligibility remains available for INFRA grants.
CAGTC Executive Director Elaine Nessle said CAGTC supports Carper's call to remove the cap on non-highway freight investments as well as his commitment to increasing transparency in the evaluation and award decision making process. "Freight does not move on highways alone: the multimodal freight network directly supports 44 million U.S. jobs and the indirect benefits extend to every corner of our national economy. However, non-highway projects can compete for just 11 percent of total INFRA program funding currently. Increasing the program's flexibility by making investments in the best freight projects - regardless of mode - will allow projects with the largest benefit to the goods movement network to be successful.
"The INFRA program is an invaluable tool for freight infrastructure investment. To continue building confidence in the program, it is essential that USDOT disclose more information about its decision-making process both to Congress and the public to produce a program that targets resources effectively and to affirm the integrity of the evaluation process."