Trainee May Have Had Conn in Submarine Collision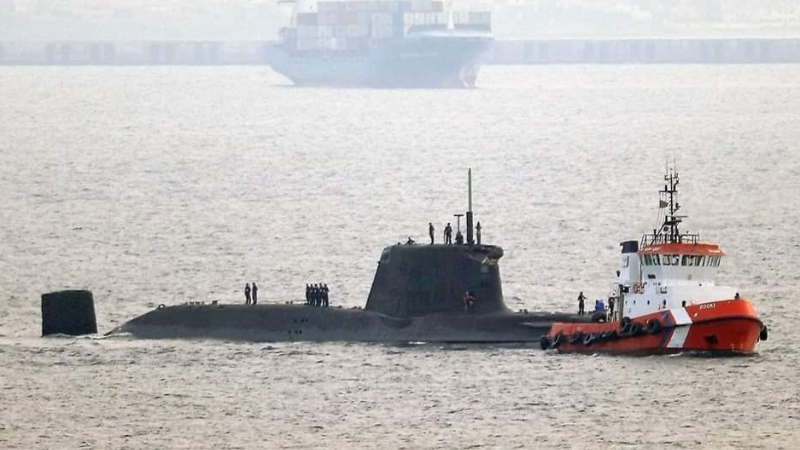 The HMS Ambush, which struck a merchant vessel on Wednesday, may have been under the control of a trainee at the time of the collision.
On the day of the accident, the Ambush was conducting the Submarine Commanders' Course (also known as "Perisher"), in which a small group of promising officers are trained and screened for the fast track to the top. It is not known whether one of the trainees had the conn at the time of collision; the Ministry of Defense has so far declined to name any personnel involved. The Times has confirmed that her commanding officer, Commander Alan Daveney, was on board.
The Perisher course is famously challenging, and the one in four participants who fail are forced out of the submarine service altogether. "Perisher is relentless – it's designed to grind you down," said Lt Cdr Dan Simmonds, speaking to the Daily Record about his own testing in 2013. Sleep deprivation and high pressure are standard, and the Royal Navy says that "the students are put through their paces at sea during realistic exercises designed to test them to the very limit."
The few published descriptions of the course indicate that close quarters situations are part of the exercises. In one, called "Eyes Only," trainees head straight towards an approaching warship while watching with only the periscope, and are instructed to dive only when it gets very close. Students also practice maneuvers in shallow water while ASW forces attempt to find their submarine.
The course is well respected amongst the world's navies, and allied nations' submariners – including American sailors – are often nominated to participate.
A former Royal Navy submariner told the Evening Mail that the collision was "hugely embarrassing" and very likely to have been caused by human actions. "It won't be a mechanical or system error, it will be human error," he said. He also suggested that the captain would shoulder the blame, and others have confirmed to UK media that Commander Daveney is likely to face court martial.
In related news, Spain's PSOE party and the environmental group Verdemar have called on Gibraltar to keep nuclear-powered submarines out of the port on fears of a risk to residents. Members of the Unidos Podemos party have called for a radiological study to determine whether there may be any contamination. The Royal Navy has confirmed that there was no damage nor risk to reactor components on the Ambush.