Construction work began on Tuesday on Costa Smeralda after her steel-cutting ceremony held at the Meyer shipyard in Turku, Finland.
The new ship will be the brand's first ship powered by LNG and the world's first cruise ship to be broadly marketed to consumers from multiple countries throughout Europe including Italy, France, Spain, Germany and Switzerland, says Costa Cruises.

Construction of the Costa Smeralda is part of a strategic plan from Carnival Corporation to build seven LNG-powered ships for its 103-ship fleet, starting in fall 2018 when the company's German-based AIDA Cruises brand introduces AIDAnova, which will be marketed largely to German consumers.

Costa Smeralda, which will enter service in October 2019, will exceed 180,000 gross tons and offer more than 2,600 passenger cabins for a total of about 6,600 passengers on board. A second ship, sister to Costa Smeralda, will be delivered by Meyer Turku in 2021.

The two new Costa Cruises ships will be powered both in port and on the open sea by LNG. The LNG will be used to generate 100 percent of the energy required for navigation and onboard services, thanks to dual-fuel hybrid engines.
Costa Smeralda will be offering cruises in Western Mediterranean, which will be on sale beginning the first few months of 2018. LNG bunkering will be provided by Shell Western LNG.
The Costa Cruises ships will be partially build by new machinery and building processes at Meyer Turku. With an investments plan of $220 million, Meyer Turku is aiming to be the world's most modern cruise ship yard.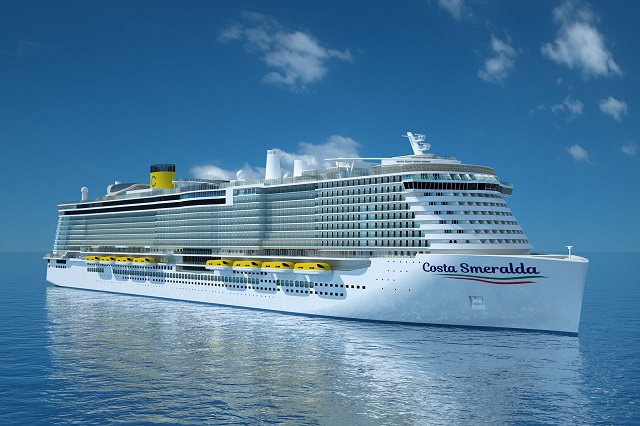 Costa Smeralda
Classification: RINA
Flag: Italian
Length overall: 337m (1,105 feet)
Beam moulded: 42m (138 feet)
Draught max:8.80m (28.9 feet)
Gross Tonnage: 182,700
Total passengers: 6,518
Total crew (max): 1,682
Speed (service): 17 knots
No. of main engines: 4