Sanctioned Russian Vessel Stuck in Port of Nantong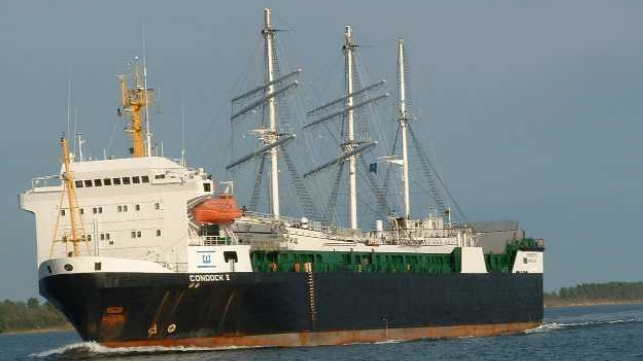 The U.S.-sanctioned cargo vessel Neptun is stuck in the port of Nantong, China, due to a payment dispute. According to Russian state media, owner Gudzon Shipping is engaged in a disagreement over contractual obligations with a shipyard in Nantong over the scope and cost of repairs. Russia asserts that American sanctions on Gudzon have nothing to do with the negotiations.
"The Chinese side, although we seemingly agree on the total payment amount, is recalculating the price of some minor activities again. They are not too expensive but they also should be agreed, so that both sides make sure that the work was completed and requires payment," Gudzon executive Valery Uliskin told TASS.
Vladivostok-based Gudzon is on the U.S. Treasury Office of Foreign Asset Control's blacklist of firms suspected of violating sanctions on North Korea - specifically, the UN Security Council ban on ship-to-ship petroleum transfers to North Korean tankers. The Treasury alleges that the tanker Patriot, which has connections to Gudzon, conducted two ship-to-ship transfers with the North Korean vessels Chon Ma San and Chong Rim 2. The ultimate buyer of the cargoes was Taesong Bank, an entity connected with Pyongyang's Office 39, which engages in illicit economic activity for the North Korean leadership. The Patriot is also on Treasury's blacklist, along with the Neptun and four other Gudzon-controlled ships.
One of these Gudzon vessels, the freighter Sevastopol, was stuck at the South Korean port of Busan for months because no one will sell her fuel. "It's a huge problem . . . The big [South] Korean oil companies like GS Caltex and Hyundai Oil won't deal with us because of the U.S. sanctions on all our vessels," a Gudzon spokesperson told Radio Free Asia in November. The Sevastopol has since returned to Vladivostok.
The Neptun (ex names Condock 5, Sea Dock) is an unusual 5,000 dwt heavy lift ship, designed with house forward and a ro-ro / flo-flo loading ramp at the stern. Her cargo hatches can be opened fully from the wheelhouse aft to the ramp to accommodate oversize cargoes like cranes and superyachts. She was built by Werft Nobiskrug in 1984.
On Thursday, the Neptun was moored at a bulk terminal on the Yangtze, downriver from Nantong.