Russian Icebreaker Could Be Arctic HQ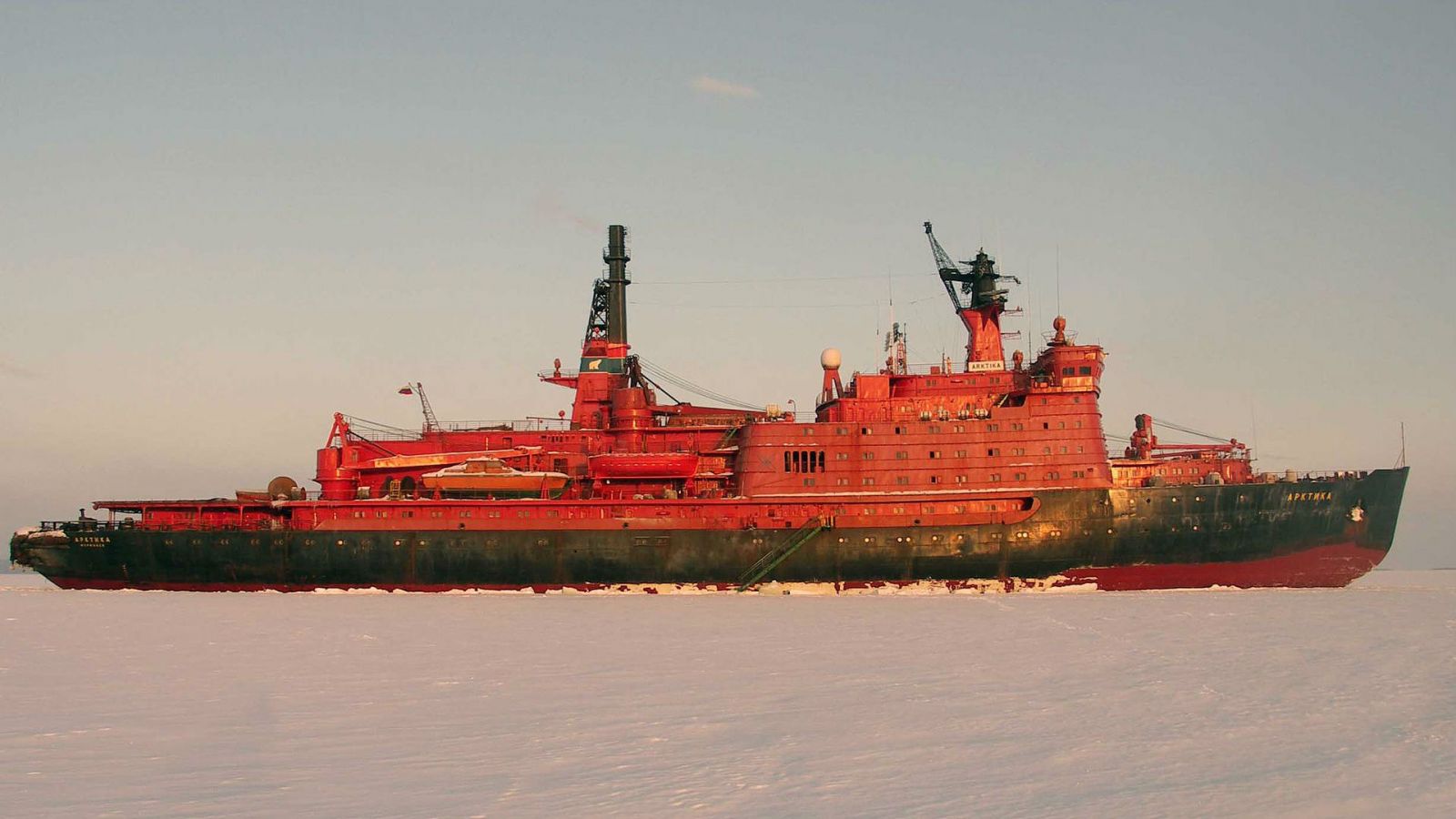 Russia's Rosatom State Atomic Energy Corporation has offered the icebreaker Soveitsky Soyuz to the Ministry of Defence as a floating headquarters for Arctic military operations.
The offer was sent from Rosatom Director Sergey Kiriyenko to Denfense Minister Sergei Shoigu, reports RIA Novosti.
Sovietsky Soyuz is an Arktika-class twin-reactor icebreaker. The vessel has been undergoing modernization work after being laid-up at Atomflot north of Murmansk since 2006.
The 148 meter (485-foot) vessel is expected to be ready for service later this year. It has two reactors that generate 171MW each providing 75,000hp to the three propellers and can sail at speeds of 20 knots. It can also crush ice up to three meters thick.
Sovetsky Soyuz was laid down at Baltiysky Zavod shipyard in Leningrad, launched on October 31, 1986 and put in operation in 1989. It has been used to perform tourist voyages to the North Pole in 1991 and 1992, and in March 2002, was moored at Murmansk port to supply coastal assets with power, an historical first for the nuclear icebreaking fleet. In 2004, she was one of three icebreakers that took part in global warming research.
Other Russian Arktika-class icebreakers are currently being used to support commercial ships along the Northern Sea Route.
Russia is currently building new and re-opening former military bases in the Arctic, including on the Franz Josef Land, Novaya Zemlya and the New Siberian Islands, reports the Independent Barents Observer.
More and more Russian and U.S. military forces are deploying on and under the Arctic Ocean, however Washington and Moscow are approaching their Arctic build-ups quite differently, said Reuters analyst David Axe last year. The Kremlin holds the advantage on the ocean's surface; the Pentagon dominates beneath the waves. Though Russia and the United States both train Arctic ground troops, Washington is also building a northern strike force of high-tech stealth warplanes.
These different approaches are the results of military policies and priorities going back decades. Moscow chose to invest in icebreakers to work along its vast Arctic frontier, while Washington spent its money on submarines and warplanes that are equally useful outside the polar regions.

The Russian government owns 22 icebreakers; Russian industry possesses another 19 of the specialized vessels. Moscow has another 11 icebreakers under construction or in planning.
The U.S. fleet operates 41 nuclear-powered attack subs with equipment for sailing under — and punching through — Arctic ice. Russia's ice-capable attack-submarine force numbers just 25 vessels.