Robot Containers Could Ship Aquaculture Products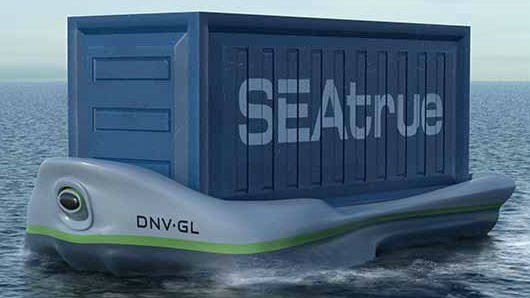 A group of Norwegian graduates have spent their summer developing smart "robot containers" with cooling systems that can sail to ports without any human interaction.
The seafood industry must comply with increasingly strict demands of consumers on sustainable seafood production, and the SEAtrue concept they developed offers a new supply chain solution.
"Technological advances offer us unprecedented opportunities for efficient seafood production. Enhanced cooling systems for extended shelf life, autonomous vessels and big data can reduce costs, ensure higher product quality and better informed consumers. We seek to seize the opportunities that these new technologies affords," says project manager Ole Johan Lønnum, a marine technology graduate at NTNU.
A consumer application called TraceEat sends information about consumer preferences to DNV GL's proprietary digital platform, Veracity, which determines the most efficient use of resources and directs the containers accordingly. The seafood is transported in autonomous smart containers which employ sophisticated cooling techniques to extend shelf life.
The self-propelled containers are released from the processing vessel and either position themselves for pick up by a designated container ship or sail directly to a nearby port. That way, transportation by sea becomes more effective and efficient, say the students.
Additional onshore infrastructure is not a necessity, and the concept is scalable and able to be adapted to different regions without special demands for vast infrastructure investments. Thus, the solution is particularly suited for areas with poorly developed infrastructure.
"SEAtrue is a cutting-edge supply chain system that allows for optimal distribution and lower emissions. Moreover, it adjusts production to meet demand and thereby enhance a sustainable aquaculture industry," Lønnum says.
Given appropriate support, the solution could be implemented by 2030.
Earlier this year the Norwegian government launched its Norwegian Ocean Strategy, aimed at creating jobs and sustainable growth in the blue economy – most notably in the aquaculture industry.

The summer project team (From left): Lars Sørum, Liv Aune Hagen, Balder Riiser Haugerud, Ole-Johan Lønnum, Mats Mowinckel Giovannoni, Helene Rimstad, Maren Eidal, Hans Jørgen Asplin, Marita Helgesen, Adrian Falck, Marius Aasen, Kristina Dahlberg and Ketil Aamnes.