The Australian cruise market grew by 21 percent in 2016, with 1,281,159 Australians taking a cruise. The growth is the biggest increase on record, according to the Cruise Lines International Association (CLIA) Australasia's 2016 Australian Ocean Passenger Cruise Industry Source Market Report.
In 2016, Australia achieved the equivalent of 5.3 percent market penetration, that's one in 19 Australians taking a cruise, the highest per capita ratio in the world. Australia's ocean cruise passenger numbers have increased by an average of 19.4 percent annually since 2007. In the last five years, these numbers have doubled.
Australia was the fifth largest source market in the world in 2016 accounting for 5.2 percent of global cruise passengers. The annual report shows Australia has performed well ahead of leading established markets including, Germany, the U.K., Ireland the U.S. and Canada.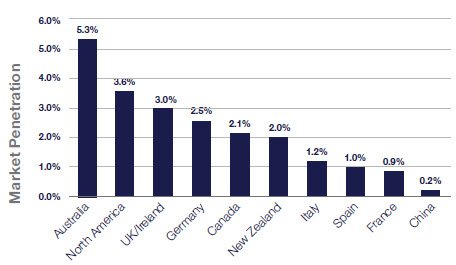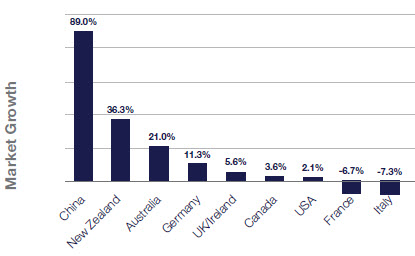 "The most popular cruises are local itineraries in Australia, New Zealand and the South Pacific, accounting for 76.7 per cent of Australian cruise passengers, growing by 30.2 per cent year on year," said CLIA Australasia's Managing Director, Joel Katz. "These results reconfirm cruising as Australia's fastest growth tourism sector, worth close to $5 billion annually to the economy and supporting almost 20,000 jobs."
Australia has 34 regional ports and anchorages that accept cruise vessels. However, future growth of Australia's cruising sector will be hindered by a lack of berthing options in major capital cities, says Katz.
"To achieve the 11.8 percent annual Australian passenger growth needed to achieve the goal of two million passengers by 2020, there are significant challenges facing us as an industry here in Australia, particularly in Sydney. These must be urgently addressed."
Calling on the NSW Government to engage with the industry to resolve the lack of berthing options east of the Harbour Bridge, Katz said, "Cruise Lines are already announcing that lack of capacity in Sydney is forcing them to redeploy their ships. The knock-on effect of this will impact thousands of travel agents, hotels, restaurants, transportation companies, and all the Australian suppliers, large and small, who provide the food and beverage and other supplies to the cruise industry."
Royal Caribbean Cruises has decided to stop sending Voyager of the Seas to Australia because Sydney doesn't have the capacity, and a number of other cruise lines are looking at bypassing Sydney in favor of Melbourne and Brisbane.
Key findings of the 2016 Australian Cruise Industry Source Market report include:
* Australia's favorite cruise destination was South Pacific attracting more than 42 percent of ocean cruise passengers (542,825).
* New Zealand pulled ahead of Europe in 2016 as Australia's third most popular destination overall, attracting 8.3 percent of passengers (106,737).
* While Alaska saw a 25.5 percent increase, other long-haul fly-cruise destination experienced a fall in 2016, with Europe falling by 11.8 percent and Asia by 10.1 percent.
* Short break cruises for four days or less grew by 59.7 percent in 2016, and cruises of 22+ days rose by more than 20 percent. Eight to 14 day cruises remain most popular in 2016, attracting 642,063 passengers (50.1 percent of the market).
* Australians spent 12 million days at sea in 2016 with an average ocean cruising length of 9.4 days.