A piece of debris from a Boeing 777 that has been found off Mozambique might belong to missing Malaysia Airlines Flight MH370.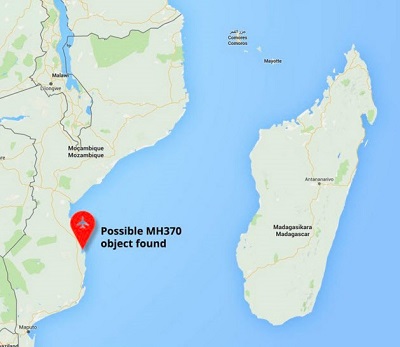 The object has the words "NO STEP" on it and could be from the plane's horizontal stabilizer, the wing-like parts attached to the tail, reports NBC News.
Malaysia Airlines Flight MH370 disappeared with 239 people on board during a flight from Kuala Lumpur to Beijing on March 8, 2014, sparking one of the greatest mysteries in aviation history.
The debris was found on a sandbank in the Mozambique Channel. So far the only confirmed piece of debris, a flaperon, was found last July washed up on the eastern shore of Reunion, east of Madagascar.
Malaysian Transport Minister Liow Tiong Lai has used Twitter to indicate that the find is being investigated, but nothing has been confirmed yet.
The Australian-led underwater search has resulted in over 85,000 square kilometres of the seafloor being searched so far. In the event the aircraft is found and accessible, Australia, Malaysia and the People's Republic of China have agreed to plans for recovery activities, including securing all the evidence necessary for the accident investigation.
Consistent with the undertaking given by the governments of Australia, Malaysia and the People's Republic of China in April last year, 120,000 square kilometers will be thoroughly searched. It is anticipated this will be completed around the middle of the year. In the absence of credible new information that leads to the identification of a specific location of the aircraft, the governments have agreed that there will be no further expansion of the search area.