Posidonia 2016 at BDI 600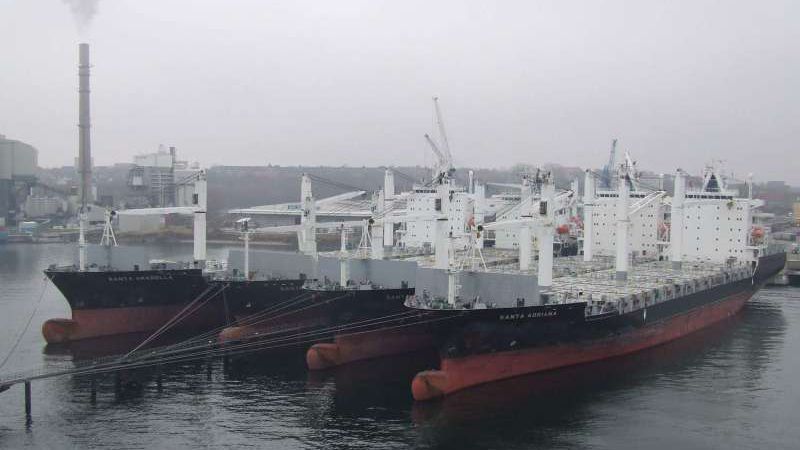 The biennial shipping exhibition of Posidonia in Greece just ended with another stellar performance for the venue, with 22,000 attendees and 1,800 exhibitors from 90 countries. In terms of attendance, it was up by 14% from another stellar year, in 2014. It's nice seeing that, even in challenging times, executives in shipping have a traveling budget and Greece still manages to stage the biggest exhibition of the industry.
Aside from the big crowds and numbers, however, one could see signs of an industry that may be slowly coming apart at the seams. Taking Yogi Berra's quote at heart that "One can observe a lot by just watching," the overall mood was mostly defined by the words not said, the parties not held, and the shipowners who didn't show up at conferences before.
Just to provide some background, the Baltic Dry Index (BDI), assuming that's the whole industry's benchmark, can be encapsulated by the following table: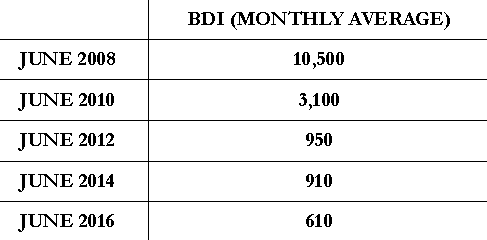 Graphic courtesy Karatzas Marine Advisors
Apparently, the index has been at its worst at present, at Stygian depths, and one would expect that pain is widespread in the industry.
The Party Scene
Posidonia and celebrating in Greece are defined by late night parties at fancy seaside clubs and locales, and day cruises on shipowners' yachts. Overall, the party scene this year has been fairly subdued, and the abundance of previous years did not make it to this year. Some parties were missed due to consolidation (mostly of shipbrokers and advisors), while quality of food and keeping the bar open for the whole night were hard to come by this year.
Again, when the freight market has been so low, every dollar saved at sea and ashore can be crucial. Thus, many parties seem to have been hosted in the spirit of being "present and still in business" versus trying to convey the message that times are great.
The formal conferences and debates during the day had been dominated by discussions about the historic strength of the shipowning market and the industry, and the promise that there will be better days. Private equity funds and shipping banks took some beating for being the main cause of tonnage oversupply in the past, at least in the opinion of a few shipowners and advisors. That seems to be the theme of other shipping conferences too – that financiers have been the main culprits of the crisis, trusting the shipowners with too much money – at least, that's how we understood it.
Screaming Buy Opportunity?
Several major shipowners claimed loudly that the market is a screaming buy opportunity, especially for dry bulk, and vessels are now historically cheap. China's performance notwithstanding, it has been claimed there have been plenty of opportunities for growth worldwide, from India to Africa, plus several potential causes for military actions (wars and volatility are traditionally good to shipowners).
This is what has been said, honestly. But again, for a couple of these shipowners, they have been noticeable in the shipping market by their absence, as they have not bought any ships in the last couple of years. And there have been swirling rumors that a couple of these very same shipowners live at the mercy of their lenders, so it may make someone wonder whether they were dispensing wise advice or talking their books. For full disclosure, we are of the opinion that certain market segments are strong buying opportunities (for details, please inquire within), thus a bullish opinion is not necessarily un-qualified just because these owners have not acted on their own market assessment.
Bankers and financiers seemed to have been in season this year, as again they got blamed for not financing vessels now that prices are historically low. Definitely there is some truth to it, as banks and financiers used to be much looser with financing vessels at much higher asset prices (but also freight rates), but now, with the exception of a handful of shipowners and corporate credits, it seems that shipping is an unbankable industry. We have written about this topic in the past in this post, as this is a common complaint of many smaller and still well-capitalized owners, who happen not to check all the boxes in today's world for shipping finance.
There is no doubt that shipping assets are cheap, as freight rates are low and there is a tremendous still outstanding orderbook (10-30%, depending on the asset class) of a relatively brand-new existing world fleet. Cheap assets may proffer a great investment opportunity given the motto "buy low, sell high," but the 'runway' required for a cheap asset to appreciate may be detrimental to the survival of many shipowners and investors.
And quite frankly, there is a lot of junk floating around that is passing as legitimate tonnage (mostly bulkers built at greenfield yards in the boom years of the cycle), and these vessels most likely will prove to be the graveyard of many an unsophisticated shipowner and institutional investor.
A Derivative Industry
As great and exciting as shipping is, we all have to keep in mind that it's a derivative industry. It derives its business and strength when charterers move cargoes, whether raw material, finished products, crude oil or energy. As romantic as ships may be, they only make a good return when underlying industries and countries are doing well.
And taking a broader view of the world, one has to be careful: Just this week, the OECD lowered its forecast for economic growth to 1.8% and 2.2% for 2016 and 2017, respectively (from 2% and 2.2%, updated just in February, 2016). For what it's worth, a bellwether institutional investor, George Soros, has also been in the news recently as he sees clouds in the world's macro-environment and has started placing bearish investments by going long on gold.
Just because Mr. Soros sees trouble ahead it does not mean that shipping investors should be running for the exits, but again, it's tough to be getting too excited. Moreover, it has been reported that central banks now are sitting on $10 trillion in assets that are bearing negative interest rates (NIRP); negative rates have not been implemented on such a massive scale before, and while it's hard to predict how this will end up, it's abundantly clear that central banks are running out of options to stimulate growth. Once again, a bearish notion to shipping.
Protectionist Wave
Switching from economics to politics, one can see that there has been a wave of protectionism and nationalism circling our planet, from the referendum about Brexit in the U.K. to building "yuge" walls in the U.S., to imposing tariffs on China for "dumping" steel in international markets. As stated, shipping is a derivative industry that needs cargo to move in order to prosper, and as skeptical as we are that protectionism will take root, one has to be concerned that the overall trend is toward more, rather than fewer, barriers to trade.
Traditionally, we have found Posidonia to be one of the most optimistic shipping conferences worldwide, with lots of high energy, excitement, vivacity and execution. This year the mood was bordering on the pessimistic as people were very concerned with current developments: weak freight rates and low future expectations, complete lack of financing (with a few exceptions – once again, please inquire within), possibly a China that will be experiencing a harder landing than expected, plentiful newbuildings on default and bleeding shipowners. As for execution, just one major transaction was announced during Posidonia, worth just a billion dollars.
And taking a broader look at the Greek economy and society, the pain has been even deeper than in shipping. The honeymoon is over with the Tsipras/Syriza government, and strikes are getting to be a daily fact of life. The endless traffic jams are reminiscent of the capitals of emerging economies as are the fruitless efforts of the Greek government to tax its way out of the crisis instead of attempting to increase the tax base by cutting down on the red tape and stimulating entrepreneurship.
Lack of Order
As always, there has been little sense of order or effort to change things.
Possibly the best line of Posidonia 2016 came at the British Ambassador's residence hosting a reception for the shipping community. When time came to refill glasses with wine, people were queuing neatly to the bar, which led a Brit in attendance to comment: "You know you are on British soil when people queue to the bar!"
It was an astute observation we had missed. And there was another line to the sushi buffet the next night at the Japan Ship Export Association reception hosted by the Japanese Ambassador to Greece. Quite frankly, these were the only two lines we experienced in Greece during our ten-day Posidonia attendance. Everywhere else there was chaos and a notable absence of order. But again, as once stated by an attendee, "Shipping is not a team sport."
The opinions expressed herein are the author's and not necessarily those of The Maritime Executive.