Port of Seattle Approves $350M Waterfront Plan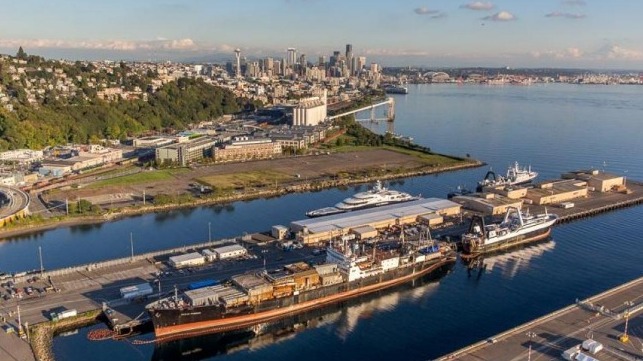 As part of a new five-year budget blueprint, the Port of Seattle's commission has approved a $350 million plan for upgrades to the city's waterfront. It includes a new cruise ship terminal for Seattle's booming cruise industry, new light industrial facilities in Interbay, and upgrades for Fishermen's Terminal near Ballard, among other maritime and economic development projects. The plan is accompanied by a small property tax increase for King County.
Specific highlights of projects in the five-year budget blueprint include:
- $100 million for a new Elliott Bay cruise terminal, with a 50 percent tenant cost share
- $39 million for development of uplands at Terminal 91, the multipurpose/cruise/fishing pier at Smith Cove
- $35 million for berth replacement at Terminal 91
- $30 million for bringing electrical power to the waterfront, which will improve air quality and reduce greenhouse gas emissions from cruise vessels at berth
- $23 million for the Fishermen's Terminal Gateway Building, a new marine sales and services/warehouse building for the Alaska fishing fleet
- $17 million for habitat restoration at Terminal 117, a cleanup area within the Lower Duwamish Superfund Site
- and installation of solar power systems at the port's Pier 69 building.
The new cruise terminal's final location on the Seattle waterfront has not yet been announced, but regardless of site selection, it will help accommodate rapid growth in Seattle's cruise business. The port is ahead of all other cruise homeports on the West Coast for passenger volume, including Vancouver, B.C., which trails Seattle with about 900,000 passengers per year. Cruising generates about $500 million in revenue for local businesses, according to the port.
The budget blueprint is intended to facilitate long-term planning, and individual projects will still receive public discussion and a port commission authorization vote prior to construction.
Separately, through the Northwest Seaport Alliance comprising Seattle and Tacoma, the Port of Seattle will invest $340 million for the redevelopment of Terminal 5 to handle ultra-large container vessels. The Terminal 5 project involves berth deepening, dock strengthening and electrical utility upgrades to handle the industry's new supersized ships.