One Killed in Harbor Crane Fire in Kolkata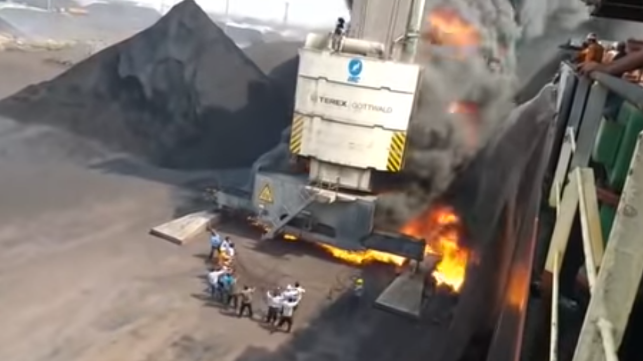 [Brief] One worker was killed Saturday after jumping off a burning harbor crane at the port of Haldia, a dock complex downstream from Kolkata. He sustained serious injuries in the fall and died later at a hospital.
The crane's operator, identified as Dravin Rai, 28, was using a large mobile harbor crane to unload coal from a bulker at Haldia's Berth 13. A fire broke out on the crane, and to escape it, Rai leapt from the top of the crane's counterweights onto the dock. Some of his coworkers held out a net to try to catch him, according to eyewitnesses, but the effort did not succeed. The distance of the fall was estimated at about 50 feet. Bystander video captured the scene.
"We are yet to trace the cause of fire. We have shut down all operations at the berth and an investigation has started," the general manager of Haldia Port told Hindustan Times.
According to The Telegraph India, eyewitnesses reported that the fire started during refueling of the crane.
Berth 13 is operated by a subsidiary of a Kolkata-based company. In 2016, the firm acquired two 100-ton cranes like the model shown in bystander video for an undisclosed price.