The New Zealand Government is renewing efforts to expand New Zealand's network of free trade agreements through a new strategy, Trade Agenda 2030, released last week.
Prime Minister Bill English says the government will invest close to NZ$100 million ($70.5 million) in trade initiatives. The government has set self-declared "ambitious goal" of having free trade agreements that cover 90 percent of New Zealand's goods export by 2030, up 37 percent from current levels. The new funding includes NZ$35.3 million to the Ministry of Primary Industries to boost the value of primary exports.
New Zealand is a small economy, distant from major markets and dependent on trade (often in products that face higher than average levels of protectionism). The country has consistently resisted protectionism and championed an open global trading system.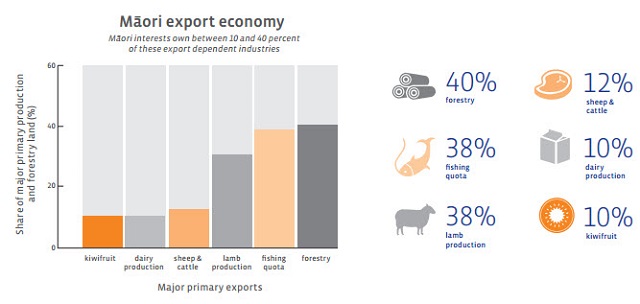 Kiwifruit
During 2016, the New Zealand kiwifruit industry paid over NZ$70 million in import tariffs in various markets. This is equivalent to around an average of NZ$25,000 for every grower in New Zealand, if tariff relief were passed straight through to New Zealand growers.
Exporting company Zespri says that the elimination of tariffs in key markets would enable more competitive pricing. The 2017 New Zealand kiwifruit season has just begun with the first ship, the Asian Adonis, sailing to Shanghai with 840,000 trays of premium kiwifruit. The first of the 46 reefers, the Shanghai destination is a break from tradition: the first ship for many years has been to Japan.
Zespri will export fruit to around 60 countries this year.
Wine
The industry body New Zealand Winegrowers has welcomed Trade Agenda 2030.
The shifts in trade policy will help increase the resilience of the New Zealand wine sector, said Jeffrey Clarke, General Manager Advocacy at New Zealand Winegrowers.
New Zealand wine exports reached a record high of $1.61 billion, up five percent for the year end January 2017. New Zealand wine is exported to more than 90 countries, and is New Zealand's seventh largest export good. The industry is working towards a goal of $2 billion of exports in 2020.
Meat
Over 90 percent of New Zealand's sheep meat production and 80 percent of beef production are exported, and Beef + Lamb New Zealand CEO, Sam McIvor and Meat Industry Association CEO, Tim Ritchie say agricultural exports continue to face major barriers around the world, such as high tariffs, increasing use of non-tariff barriers and domestic subsidies.
The new trade strategy has never been more important, they say. The sheep and beef sector is New Zealand's second-largest goods export income earner, with over NZ$7.4 billion last year.
"We strongly support the continued focused on free trade agreements. Last year our industry saved approximately NZ$211 million in tariffs as a result of the FTAs that are in force, including with China, Taiwan and Thailand. But there is still more to be done," says McIvor.
"For example, we have lost market share in Japan because of the high tariffs on New Zealand beef. The Trade Agenda 2030 confirms a direction of travel which should help to address this going forward."
Dairy
The Dairy Companies Association welcomed the Trade Agenda 2030. New Zealand dairy exporters have contributed approximately NZ$14 billion of export revenue in 2016.
New Zealand dairy company Fonterra also supports the new agenda. Chairman John Wilson said: "New Zealand has a great track record in trade liberalization, and the flexible approach that is suggested for achieving further gains makes good sense in a very challenging global context."
Fonterra exports 95 percent of what it produces to over 100 markets. Yet, Wilson says that dairy remains one of the most protected sectors in the world. The value of removing tariffs on dairy could mean about NZ$1.3 billion per annum to the NZ economy.
The Trade Agenda 2030 is available here.