Navy Accepts Delivery of Future USS Milwaukee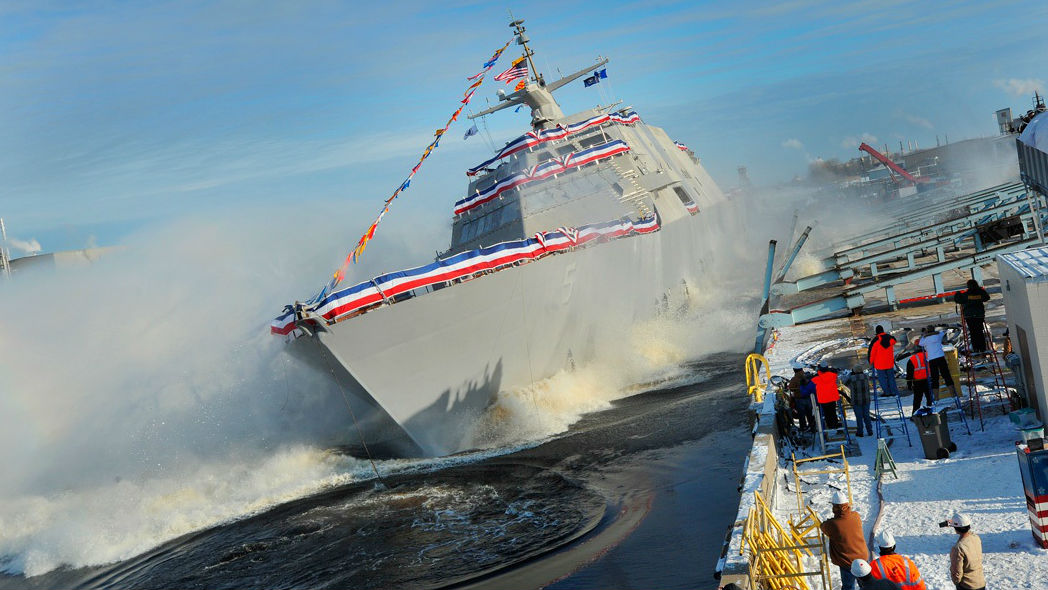 The U.S. Navy accepted delivery of the future USS Milwaukee (LCS 5) during a ceremony at the Marinette Marine Corporation shipyard October 16.
Milwaukee is the sixth littoral combat ship to be delivered to the Navy and the third of the Freedom variant to join the fleet.
Delivery marks the official transfer of LCS 5 from a Lockheed Martin-led team to the Navy. It is the final milestone prior to commissioning, which is planned for November 21 in its namesake city.
Following commissioning, Milwaukee will be homeported in San Diego with sister ships USS Freedom (LCS 1), USS Independence (LCS 2), USS Fort Worth (LCS 3), USS Coronado (LCS 4) and the future USS Jackson (LCS 6).
LCS is a modular, reconfigurable ship, with three types of mission packages including surface warfare, mine countermeasures and anti-submarine warfare. It is a fast, agile, focused-mission platform designed for operation in near-shore environments yet capable of open-ocean operation. It is designed to defeat asymmetric "anti-access" threats such as mines, quiet diesel submarines and fast surface craft.
The LCS class consists of two variants, the Freedom variant and the Independence variant - designed and built by two industry teams. The Freedom variant team is led by Lockheed Martin (for the odd-numbered hulls, e.g. LCS 1). The Independence variant team is being led by Austal USA (for the subsequent even-numbered hulls) and was originally led by General Dynamics, Bath Iron Works (LCS 2 and LCS 4).
General Characteristics, Freedom variant
Builder: Lockheed Martin
Length: 387.6 ft. (118.1 meters)
Beam: 57.7 ft. (17.6 meters)
Displacement: approximately 3,400 MT full load
Draft: 14.1 ft. (4.3 meters)
Speed: 40+ knots
Ships:
USS Freedom (LCS 1), San Diego, CA
PCU Sioux City (LCS 11) - under construction
PCU Wichita (LCS 13) - in pre-production phase
PCU Billings (LCS 15) - in pre-production phase
USS Fort Worth (LCS 3), San Diego, CA
USS Milwaukee (LCS 5) - under construction
PCU Detroit (LCS 7) - under construction
PCU Little Rock (LCS 9) - under construction

General Characteristics, Independent variant
Builder: General Dynamics (LCS 2 and LCS 4), Austal USA (LCS 6 and follow)
Length: 418.6 ft. (127.6 meters)
Height: 103.7 ft. (31.6 meters)
Beam: 103.7 ft. (31.6 meters)
Displacement: approximately 3,100 MT full load
Draft: 14.4 ft. (4.4 meters)
Ships:
PCU Gabrielle Giffords (LCS 10) - under construction
PCU Omaha (LCS 12) - under construction
PCU Manchester (LCS 14) - in pre-production phase
PCU Tulsa (LCS 16) - in pre-production phase
USS Independence (LCS 2), San Diego, CA
USS Coronado (LCS 4), San Diego, CA
PCU Jackson (LCS 6) - under construction
PCU Montgomery (LCS 8) - under construction