[Updated] Migrant Rescue Vessels Overwhelmed, Send Mayday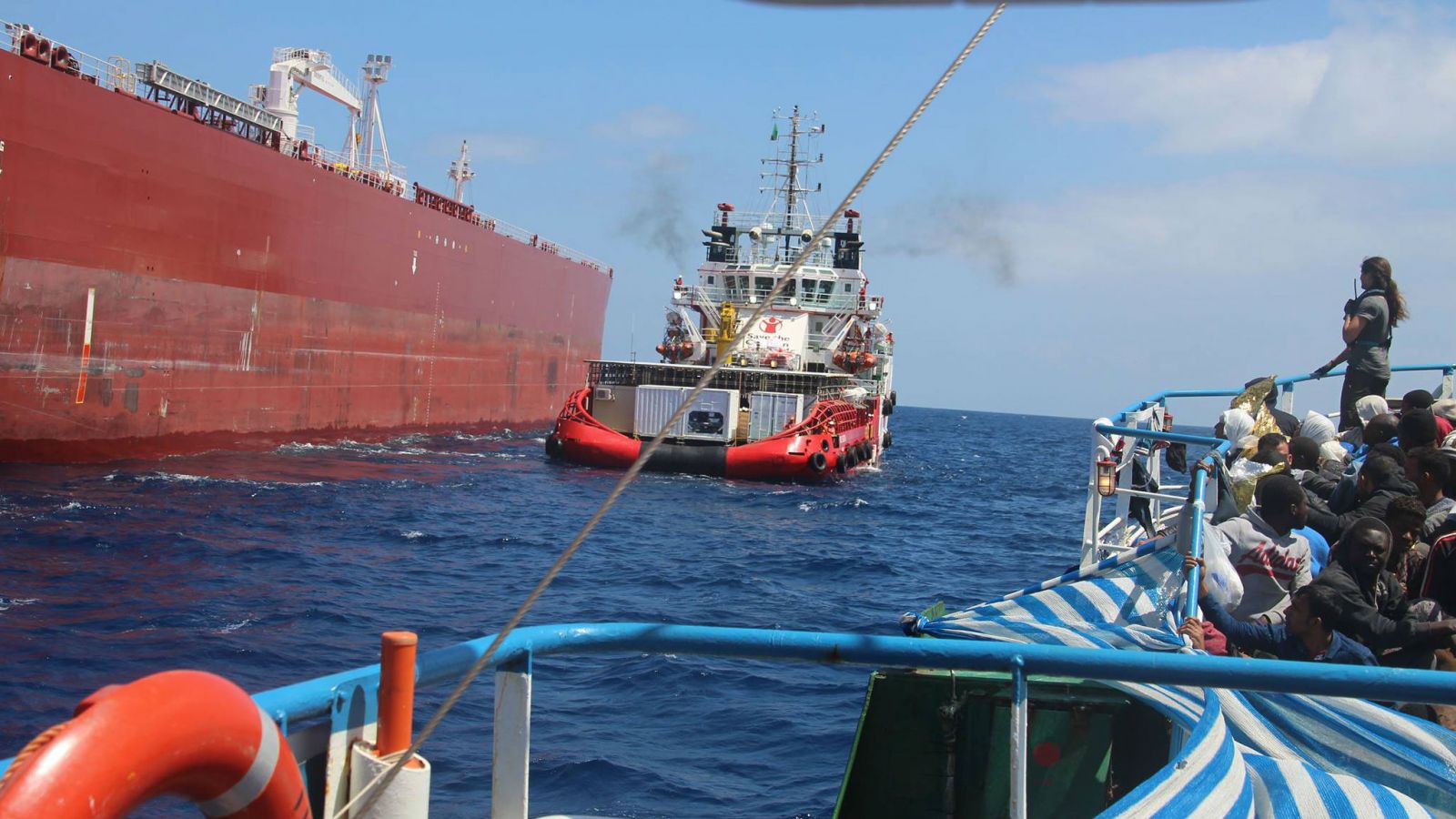 The German civil society migrant rescue NGOs Jugend Rettet and Sea-Eye called a Mayday on Sunday.
The Iuventa, Jugend Rettet ship, had 400 rescued migrants on board, including seven pregnant women, and was concerned that many might lose their life as weather conditions worsened. The Sea-Eye had 120 people on board including 10 casualties.
Mélanie G?odkiewicz, Advisor at Human Rights at Sea, said that on Monday those rescued by Iuventa were transferred to the VOS Hestia, an NGO-led vessel from Save the Children, in the lee of the tanker Stemnitsa, responding at the scene. Those on board are being taken to Malta.
The migrants on board the Sea-Eye were rescued by two vessels from the Italian Coastguard and are being taken to Italy.
A vessel from OOC Opielok Offshore Carriers, the supply vessel OOC Panther, was also involved in the rescue (see picture below).
"The SAR NGO ships were overwhelmed with the sudden increase in rescues over the weekend and struggled to receive the necessary assistance," says G?odkiewicz. "There is an increasing need of improved coordination between the actors involved in SAR operations offshore Libya so that the legal and moral obligation of rescuing lives in distress can be effectively fulfilled.
"As a reminder, NGO-led ships are filling in a gap since there is no E.U. sea operation that is fully dedicated to the search and rescue of migrants offshore Libya."
Leading up to the Mayday was the progressive overcrowding of both rescue vessels. Those rescued were holding on to each other so they didn't slip off.
Normally, a larger ship would come to assist the NGO-led vessels to help with disembarkation and transfer. However, during the weekend, there were no vessels in the vicinity that could assist. The NGOs report that military vessels usually operating offshore from Libya had left the rescue zone a few hours before.
The rescue vessels were surrounded by overcrowded and unseaworthy boats in distress. The vessels could not be maneuvered safely, and this hampered rescue efforts in worsening conditions. Another 400 migrants, including children without life vests, were unable to be taken on board.
"The ongoing distress situation is unfortunately not a surprise for our charity as we have reported on a similar situation in October 2016 when one of our interns was on board the vessel of the German civil society NGO Sea-Watch," says G?odkiewicz.
"Too many migrants have lost their lives in front of civil society rescuers that have reached full capacity and could not carry out more rescues. Another tragic day in the Mediterranean."
Human Rights at Sea recently released a Voluntary Code of Conduct, and this shows the need for such a code to be agreed and worked to by all NGO, says Founder, David Hammond.
The guidance A Voluntary Code of Conduct for Search and Rescue Operations undertaken by civil society Non-Governmental Organisations in the Mediterranean Sea is based on established humanitarian principles, existing search and rescue convention, applicable international law and guidance from the International Maritime Rescue Federation (IMRF). It sets out how to increase joint co-ordination and co-operation and has been developed in close co-ordination with established rescue coordination centers, including the IMRF, Sea Watch and other state and non-state actors.
"The publication encourages the sharing and development of joint standard operating procedures. Further, it develops the concept of agreed pre-operation on-scene coordination," says Hammond.
"With the unprecedented mass movement of people towards Europe, co-ordination at every level is critical to acting effectively and to protecting fundamental rights."