MARAD Administrator David Matsuda Visits Empire State VI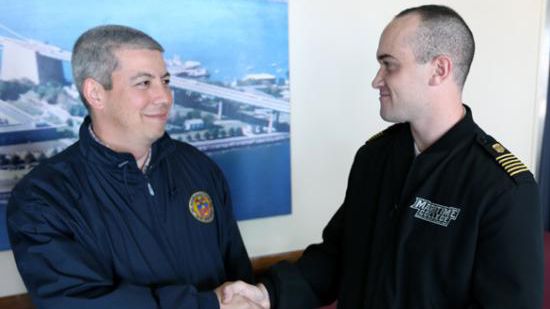 Maritime Administrator David Matsuda visited the SUNY Maritime College Training Ship, the Empire State on Friday, November 16, 2012 and met with Captain Richard Smith, '81, Master of the Empire State VI and Commandant of Cadets at SUNY Maritime College. Mr. Matsuda also toured the vessel and met with SUNY Maritime Regimental Commander Carl Fischer, Cadet Chief Engineer David Catherwood, Chief Indoctrination Officer Tyler Reszoly, IDO Peter Kennedy, Chief Squad Leader Janie Rocco and 1/C Scott Sienkowitz. The cadets gave Mr. Matsuda an overview of the Safety Presentation and led Mr. Matsuda and MARAD officials on a tour of the Mess Deck, Classroom area, Berthing and Engine Room.
During the tour, Captain Smith and Mr. Matsuda spoke about how the ship has been used for the past few weeks, by close to 500 FEMA (Federal Emergency Management Administration) workers who came to assist New York area residents, impacted by the storm. In the Officer's Lounge, Mr. Matsuda, the MARAD group, Captain Smith and the Cadets met with FEMA National Director, Steward Beckham and his team.
Over the years, the Empire State VI has been used for "general purpose capability" after Hurricane Katrina and now again with Hurricane Sandy. In the New York area, the ship has the potential to train more than 5,000 firefighters. The ship's primary mission is STCW training of SUNY Maritime College students, both during the summer training cruises, and the year.
At the end of Mr. Matsuda's visit, REG CDR Carl Fischer presented the MARAD Administrator with a SUNY Maritime College coin.