Indonesian Forces Intercept Hijacked Ship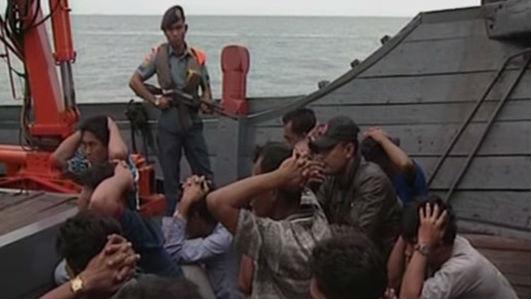 AFP reports that on Monday, Indonesian forces rescued a Singapore-flagged vessel that had been hijacked off of Borneo. Nine suspected pirates were detained for questioning, and 20 crew and one passenger were released.
No injuries or damage were reported. Navy spokesman Edi Sucipto said that the motive for the attack was to steal some 50,000 gallons of oil by transferring it to another vessel.
Authorities grew suspicious when they noticed that a ship had disappeared off of AIS and radar, then reappeared elsewhere transmitting a different vessel name. They sent a patrol ship and halted the hijacking in progress.
Indonesia has been a hot spot for maritime piracy for years; in recent months, it has seen an uptick from a new source – attacks by Islamist militant group Abu Sayyaf, which is based out of an archipelago south of Mindanao, the Philippines, but has begun hijackings and kidnappings in Indonesian and Malaysian waters as well.
Authorities did not implicate Abu Sayyaf in Monday's attack.
Indonesia, Malaysia and the Philippines recently reached an agreement for joint naval patrols to combat the threat. In addition, the Indonesian National Shipowners Association has recommended bow and stern watches when traveling through areas within Abu Sayyaf's range of attack, plus the use of ship convoys – a practice typically associated with wartime operations.
Abu Sayyaf is notorious for kidnappings, backed up by a willingness to execute captives, and has earned millions of dollars in ransoms. It has acquired modern equipment with its ill-gotten gains; Philippine authorities also say that its earnings have given it the means to employ a sizeable fraction of the local population on its island strongholds, making it difficult to combat the group on its own terrain.
The group recently released 10 Indonesian crewmembers captured in the hijacking of a tug. Sailors' Society chaplain Muhartono Tito, who is based in the Indonesian port of Banjarmasin, provided welfare assistance to the seafarers' families during the crew's five weeks in captivity.
"They were incredibly worried about the safety of their loved ones. When news broke that the terrorists had freed the men, I called their family members who were incredibly grateful," he said.
An unnamed crewmember told Sailors' Society that "we were very stressed because they frequently threatened to slit our throats."
"Although they are all home safely, it is a real possibility that both the seafarers and their families will be suffering from stress after this traumatic incident," Muhartono said. "I have offered counselling and have asked the ship owner to give the seafarers a grace of period of a month to recover."
Despite their ordeal, the seafarers are reportedly in good physical health. Not all have been so lucky: their release comes a week after Abu Sayyaf beheaded Canadian businessman John Ridsdel.
According to authorities, Abu Sayyaf are still holding at least 11 people hostage.