India's Major Ports Enjoy Container Boost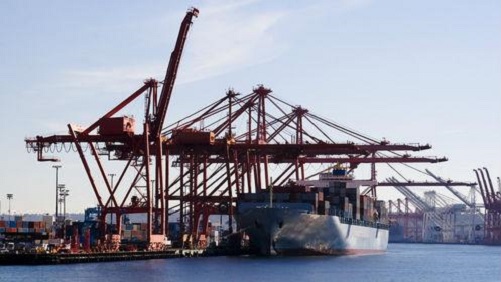 Container volumes at India's major ports increased by 6.32 percent year-over-year in the first half of the financial year through to September.

The latest provisional port statistics collected by the Journal of Commerce show the 12 ports together handled 4.35 million TEUs in the first half, up from 4.09 million TEUs over the same time last year.
Jawaharlal Nehru Port Trust accounted for 2.26 million TEUs, representing more than 50 percent of India's total containerized traffic via major ports. Journal of Commerce statistics demonstrate that average turnaround time for a ship at the port was reduced to 2.01 days from 2.85 days in the same period last year. The port has ambitions to handle 10 million TEUs by 2020-2021, after a new terminal is commissioned.
Chennai's first-half volume fell seven percent to 748,000 TEUs, an indication that cargo is being diverted from Chennai to nearby private terminals. Kolkata volumes were up 17 percent from 325,000 TEUs to 380,000 TEUs; Tuticorin volumes wer up five percent; Visakhapatnam volumes were up 132 percent from 134,000 TEUs to 311,000 TEUs; and DP World-operated Vallarpadam Terminal volumes were up 20.5 percent.
The DP World operated Mundra International Container Terminal, one of the most sophisticated and technically advanced container terminals along the Indian subcontinent, recently achieved a rate of 49.5 moves per crane per hour while handling the Maersk Line vessel Seroja Lima. The terminal also achieved a productivity rate of 180 moves per hour at the main berth having four twin-lift and 21-across quay cranes. The 8,520-TEUs Seroja Lima was unloaded, loaded and departed within a time frame of less than ten hours.
India is boosting its own transshipment capability which currently forces inbound and outbound containers to take a detour to regional hubs before heading to their final destination. An Indian conglomerate has started building the country's first transshipment port, Vizhinjam, conceived 25 years ago, and the government will construct another $4-billion facility nearby to create a shipping hub rivalling Chinese facilities in the region.
Once Vizhinjam, in the south-western state of Kerala, is operational the federal government will start building the port of Enayam in neighboring Tamil Nadu, a senior shipping ministry official said earlier this year.
India's 7,500-km (4,700-mile) coastline juts into one of the world's main shipping routes, and Prime Minister Narendra Modi wants to capitalize on that proximity by developing ports that can shift freight on to huge vessels capable of carrying up to 18,000 TEUs.