IEA: Qatar Sanctions May Affect Tanker Loadings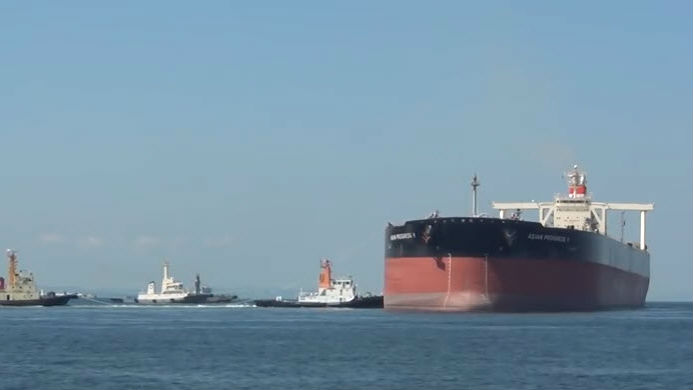 In its latest oil market report, the International Energy Agency (IEA) warned that the ongoing embargo on Qatari shipping was causing "logistical headaches" for crude oil transportation.
"Qatar pumps just over 600,000 barrels a day of crude and exports some 500,000 barrels a day, almost exclusively to Asia. Buyers often co-load cargoes from elsewhere in the Gulf, typically sold as 500,000 barrel lots, onto larger tankers to reduce shipping costs," IEA wrote in the report. "Abu Dhabi [has] enforced a ban on oil tankers linked to Qatar calling at ports in the UAE, which could lead to a backlog of cargoes."
The ban effectively limits co-loading of Qatari crude with exports from neighboring countries, including nations that are not party to the shipping ban, like Oman, Kuwait, Iran and Iraq.
Despite the ongoing dispute, oil exports from the Middle East increased in May, up by 300,000 barrels per day to about 32 million bpd. This is the fastest pace of crude exports from the region this year, and it stems largely from production boosts in Nigeria and Libya. OPEC members have agreed to support prices by cutting back on output, and compliance remains strong, IEA reports; Libya and Nigeria are exempt from the production restrictions. Even with the OPEC cutback, crude prices remain soft, and Brent has traded below $50 in recent weeks.
Market analysts forecast limited impact on oil transport
According to Tanker Shipping and Trade, brokerage firm Poten & Partners predicts that aside from a limited shift towards smaller vessels for lifting Qatari crude, the sanctions will have little effect on oil shipping. It may result in a minor and temporary increase in Suezmax tanker rates in the region, but is not expected to create large-scale disruption. Industry sources speaking to Reuters confirmed this analysis, suggesting that Suezmax rates will go up as refiners are forced to move away from VLCC co-loading for Qatari oil.
Brokerage sources also told Reuters that shipowners are adding a 2.5 percent premium for product tankers loading in Qatar. Qatar is a significant producer of naphtha, a feedstock for many petrochemical products.
Bahrain arrests Qatar sympathizer
Bahraini security forces have detained human rights lawyer Issa Faraj Arhama al-Burshaid on charges that he posted a social media message challenging Bahrain's sanctions on Qatar. If found guilty, al-Burshaid may face up to 15 years' imprisonment under a ban on speech showing "sympathy or favouratism" towards Qatar.
Burshaid had recently filed a civil suit against Bahrain's government, contending that the sanctions are illegal and arbitrary. "This siege has broken up family ties and hurt all Bahraini families," Burshaid allegedly wrote. "The decision to cut diplomatic relations violates Bahrain's constitution and laws."
According to Qatari outlet Al Jazeera, Bahrain's Anti-Corruption and Financial and Electronic Security agency asserts that Burshaid's comments "damage the social fibre and national unity." The agency is preparing to prosecute him for the alleged social media activity.
Bahrain's Gulf-Times confirmed that a Bahraini citizen has been detained for showing sympathy to Qatar on social media, but did not identify the suspect. Ahmed al-Hammadi, head of Bahrain's Terrorist Crimes Commission, said that "the suspect has been interrogated and is being held in custody."
UN human rights chief warns of sanctions' impact
In a statement released Wednesday, the UN's top human rights official said that he had growing concerns about the embargo's effects on ordinary citizens.
"I am alarmed about the possible impact on many people's human rights in the wake of the decision by Saudi Arabia, the United Arab Emirates (UAE), Egypt and Bahrain to cut diplomatic and economic ties with Qatar," said UN human rights chief Zeid Ra'ad Al Hussein. "It is becoming clear that the measures being adopted are overly broad in scope and implementation, and have the potential to seriously disrupt the lives of thousands of women, children and men, simply because they belong to one of the nationalities involved in the dispute."
He added that he is extremely concerned at news that Bahrain and the UAE are "threatening to jail and fine people who express sympathy for Qatar or opposition to their own governments' actions."
Saudi officials put pressure on Pakistan over Qatar
Pakistan has remained carefully neutral in the ongoing dispute between Qatar and its neighbors, but on Wednesday, the Express Tribune reported that Saudi leaders are putting pressure on Prime Minister Nawaz Sharif to take sides.
A senior official told the paper that during a meeting between Sharif and Saudi King Salman bin Abdulaziz in Jeddah, Saudi officials demanded that Pakistan join in the effort to isolate Qatar. However, Sharif and his staff made it plain that they do not intend to take sides. "This is primarily an issue among the Gulf countries and we hope they resolve the issue by themselves," the source said.