High Winds Cause Problems for Houston Spill Cleanup, Ship Traffic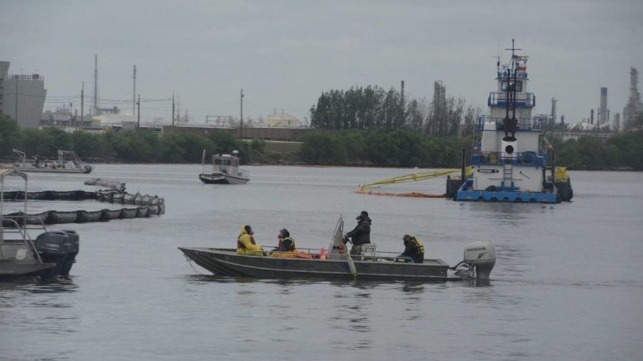 The Houston Ship Channel was shut once again on Sunday due to heavy weather and its effects on the contaminated International Terminals Co. tank farm, where a large fire led to the release of gasoline and other petroleum products last month.
On Sunday, containment booms on the side of the channel broke loose in high winds from severe thunderstorms. In addition, ITC halted cleanup work on the water and on the damaged tanks.
Outbound vessels located inland of the terminal site were prevented from leaving, and the flow of inbound vessels tapered down to a halt. The normally-busy channel has been affected by the spill and the resulting cleanup for weeks.
According to ICIS, ship traffic on the channel resumed Monday afternoon, and by mid-afternoon about 30 inbound vessels and about 26 outbound vessels were waiting to transit the waterway - a reduction from previous weeks.
On March 17, a large fire broke out at the International Terminals Co. tank farm at Deer Park, a sprawling refinery complex on the Houston Ship Channel. It was largely extinguished by March 20, but a large quantity of firefighting foam and petroleum products remained in the containment area around the tank farm. The containment wall failed on March 22, sending the mixture into a drainage ditch and out into Tucker Bayou, a small inlet on the Houston Ship Channel. Nine chemicals in samples from the drainage ditch exceeded health-protective concentration levels, including xylenes, pyrene, anthracene, benzene, ethylbenzene, toluene, phenanthrene, fluoranthene, and 2-methylnaphthalene.
Weeks after the fire was put out, the response effort continues. Several tanks have not yet been fully drained and still contain light products like naphtha and xylene. As recently as April 4, the director of the Texas Commission on Environmental Quality said that there was still a fire risk.