Arnold Palmer, known as "The King" of golf, died on Sunday aged 87. Palmer was regarded as one of the greatest players in professional golf history, but he was also a former U.S. Coast Guardsmen and philanthropist.
Palmer died of complications from heart problems. He was admitted to hospital on Thursday for some cardiovascular work and weakened over the last few days.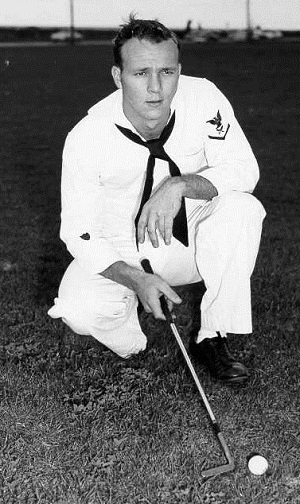 At the age of 20, Palmer decided to join the U.S. Coast Guard after his roommate was killed in a car accident. He spent three years in the service working the majority of his enlistment in Cleveland as a yeoman assigned to the U.S. Coast Guard Great Lakes commanding officer. In an interview with the U.S. Coast Guard Auxiliary, Palmer said his service in the Coast Guard made him "a better person for the world."
After his time in the Coast Guard, his attention again turned to professional golf. Palmer was the first golfer to win the Masters Tournament four times and won 92 tournaments during his career.
He always cherished his Coast Guard service, and his commitment to the Coast Guard continued throughout his life. In 2014, Palmer joined the National Coast Guard Museum Association, Inc. as an honorary chair. In that role, he was instrumental in working with the Association's executive committee and board members to establish the country's first-ever National Coast Guard Museum in New London, Connecticut, to honor the commitment, accomplishments and sacrifices of his fellow U.S. Coast Guard men and women.
In the Spring of 2015, Palmer hosted an exclusive National Coast Guard Museum event at his Bay Hill Resort in Orlando, Florida, and encouraged others to generously donate to the building of the National Coast Guard Museum.
"We are saddened today to mourn the loss of one of our greatest supporters," said Richard Grahn, President and CEO of the National Coast Guard Museum Association, Inc. "We express our condolences to his wife and family and express our deep gratitude for his steadfast leadership and support of our mission to build the National Coast Guard Museum. Our shipmate has crossed the bar."
The Arnold Palmer Hospital for Children
Palmer also established a children's hospital in Florida. In the late 1970s, a group of local pediatricians decided that a healthcare facility dedicated solely to the care of children and women was needed for Central Florida. The Orlando Regional Medical Center approached Palmer who helped fund the new hospital. The hospital opened its doors on September 10, 1989, the date of Palmer's 60th birthday.