Golar LNG Aims for "Well to Wire" Integration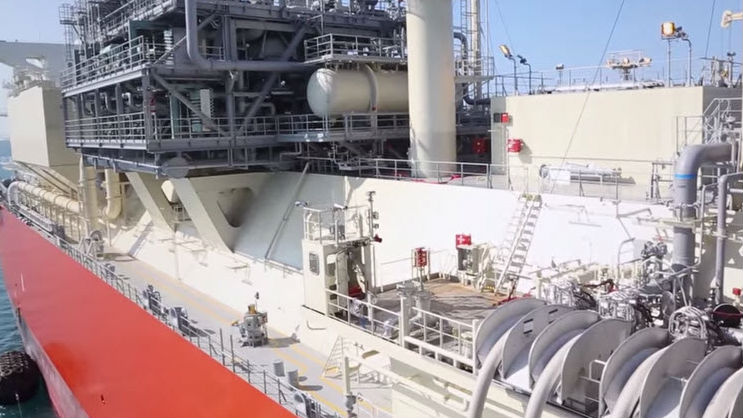 The global price of LNG has fallen with the price of oil and recently increasing supply, bringing the Asian spot market to a historic low of four dollars per MMbtu last month, and LNG producers are increasingly looking to invest in demand in order to create a market for gas exports. While it is not itself in the business of liquefaction – yet – LNG carrier and FSRU operator Golar is no exception to the trend towards vertical integration.
On Monday, Golar announced that it had secured a 50/50 joint venture agreement with Stonepeak Infrastructure Partners, a private equity firm. Stonepeak will buy its 50 percent stake for $290 million, but Stonepeak's senior managing director, Luke Taylor, added that "we hope to invest up to $500 million in the coming years."
Together they will form a new company called Golar Power, which will own and operate several floating storage and regasification units, or FSRUs, plus associated terminals – and power generation infrastructure.
Last September, Golar negotiated the right to take up to 25 percent equity in a 1.5 GW combined-cycle natural gas power plant project in the Brazilian state of Sergipe. The plant has been awarded a state power provider agreement (PPA) by the Brazilian government and its partners are making progress with permitting, with FID expected later this year.
"This is a sort of development of our thinking so clearly it's attractive for us to secure employment opportunities for FSRUs. Interestingly for [Sergipe], there is the possibility to contemplate the capacity in the FSRU and also the possibility to contemplate the delivery of LNG to the FSRU," said Golar chief executive officer Gary Smith, speaking in September.
Stonepeak and Golar's combined investments will also go towards the conversion of two LNG carriers to FSRUs and the final payment for a newbuild FSRU to be delivered next year. The new entity will also assume mortgage debt associated with the existing LNG carriers.
Golar was among the early developers of the FSRU, and full vertical integration is a core part of its strategy for the regasification unit segment. "By combining FSRU activities with power generation Golar believes it will be able to deliver a more integrated product to customers and secure a competitive advantage . . .Through these ventures Golar will effectively position itself as one of the few companies that can develop an integrated product from 'Well to Wire,'" the firm said in its latest quarterly report. "By integrating the business . . . Golar will reduce its exposure to part of the cyclicality we today see in the gas and power industry and at the same time also be one of the lowest cost producers of LNG."