Equipment Incidents on U.S. Navy Ships Double
The U.S. Government Accountability Office (GAO) has released a report showing that U.S. Navy casualty reports—incidents of degraded or out-of-service equipment—have doubled over the past five years for overseas-homeported ships.
GAO says that the material condition of overseas-homeported ships has also decreased faster than that of U.S.-homeported ships.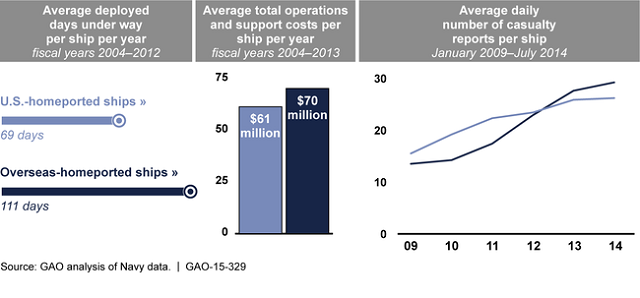 The U.S. Navy has spent hundreds of millions of dollars on overseas infrastructure and base operations since 2009 and moved large numbers of sailors, dependents and ship repair work overseas.
Forward presence supports the Navy's goals of ensuring sea control, projecting U.S. power and providing maritime security. To meet these goals, the Navy has doubled the number of ships assigned to overseas homeports since 2006. A total of 40 such assignments are expected by the end of 2015, and there are plans to increase this number further in the future.
The report states that the high pace of Navy operations overseas limits dedicated training and maintenance periods, which has resulted in difficulty keeping crews fully trained and ships maintained.
GAO states that the Navy has not identified or mitigated the risks its increasing reliance on overseas homeporting poses over the long term. GAO found that some ships homeported overseas have had consistently deferred maintenance that has resulted in long-term degraded material condition and increased maintenance costs that could shorten service life.
The Navy began implementing a revised operational schedule in 2014 for U.S.-based ships that lengthens time between deployments, citing the need for a sustainable schedule. However, the Navy has not determined how—or whether—it will apply a more sustainable schedule to ships homeported overseas.
Although the Navy's decision process for moving individual ships overseas identifies actions and resources needed, it does not assess risks that such moves pose to costs, readiness or expected service lives of ships based on historical experience.
Without a sustainable operational schedule and a comprehensive risk assessment on overseas homeporting, the Navy lacks information needed to make informed decisions, says GAO.
The GAO suggests that the Secretary of Defense should direct the Secretary of the Navy to implement its optimized fleet response plan and develop and implement a sustainable operational schedule for all ships homeported overseas.
The report is available here.