Duterte Threatens to "Eat" Abu Sayyaf Fighters Alive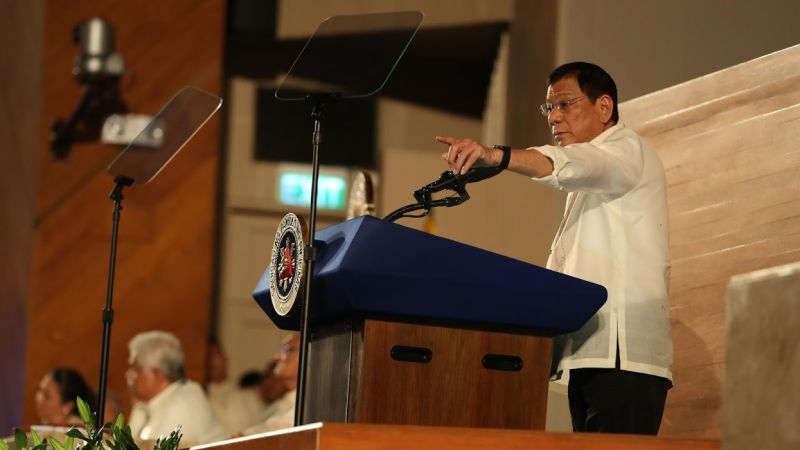 On Sunday, Philippine president Rodrigo Duterte threatened to eat members of the terrorist group Abu Sayyaf if they were captured alive. The group has abducted dozens of seafarers over the past year, and it has developed a reputation for torturing and beheading its kidnapping victims. Duterte suggested that he was capable of similar methods.
"If you want me to be an animal, I'm used to that. We're just the same," he said, in comments translated by Manila-based outlet BusinessWorld. "I can even eat you alive, just give me salt and vinegar . . . I told the military, don't sleep, find them and kill them. I want them dead. Don't give them to me alive."
Former president Fidel Ramos criticized Duterte's threats in an interview Tuesday. "This must be avoided especially when you are talking to our young people," he told ANC. He said that he supports Duterte, but the president must "act like a president all the time."
Duterte's rhetoric mirrored his statements regarding his administration's campaign against drug trafficking. Thousands of suspected drug dealers have died in encounters with the police and with unidentified vigilantes since Duterte took office, and the president has broadly encouraged the police and the public to kill suspected criminals. "Please feel free to call us, the police, or do it yourself if you have the gun – you have my support," he told a rally last June.
The U.N. Human Rights Commission has urged Philippine prosecutors to investigate Duterte for his own involvement in possible human rights violations. Despite the allegations (and his own public struggle with prescription drug abuse), Duterte remains highly popular in the Philippines.
Four more Abu Sayyaf militants killed on Bohol
On Saturday, soldiers and police killed four more suspected Abu Sayyaf militants in a running firefight on the island of Bohol. A small squad of suspected terrorists has been on the run since last week, when authorities were tipped off to the militants' presence. The Philippine military believes that the group intended to infiltrate the popular tourist destination in order to kidnap more civilians – a cause for alarm, as Bohol is hundreds of miles from the group's usual area of operation. Four fighters and four security personnel were killed when government forces first made contact with the group.
Two more suspects remain on the run on Bohol, and in a briefing at the presidential palace on Tuesday, AFP spokesman Brigadier General Restituto Padilla said that the fugitives were surrounded. "They don't pose any serious threat anymore . . . Because of their long exposure to the elements, what they are doing now is to fight for their survival," he said.
President Duterte has offered a bounty of $20,000 for information leading to the capture of the remaining militants on Bohol, "dead or alive."
Abu Sayyaf beheads kidnapped soldier
On Monday, the Abu Sayyaf Group beheaded a fighter of the Moro National Liberation Front (MNLF), a former rebel group that has joined the AFP in the fight against the terrorist organization.
The body of the soldier – staff sergeant Anni Siraji – was found in Patikul, Sulu. The AFP condemned the execution and expressed its condolences to Siraji's family. "We were saddened by that news and we express our sympathies to the family," said spokesman Brigadier General Cirilito Sobejana, speaking to ABS CBN. "As it was, we understand that it's all part of our jobs as soldiers and protector of our people.