Container Ship Windshield a Success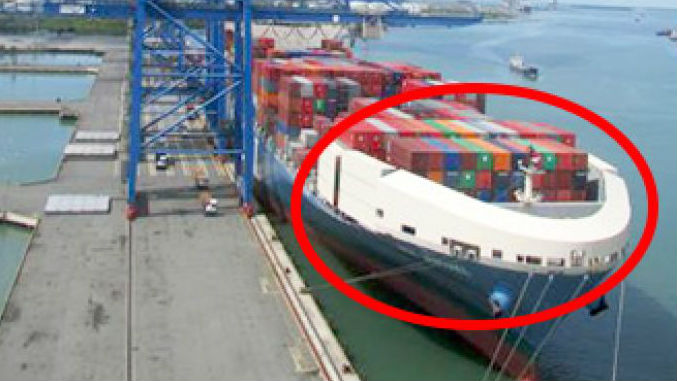 Mitsui O.S.K. Lines (MOL) has completed an in-service test of a wind resistance-reducing windshield for container ships and determined that the device reduces emissions of CO2 by an average of two percent.
The windshield, co-developed by MOL, was installed on the bow of its operated container ship, MOL Marvel, for the test which involved sailing at 17 knots during service on Asia-North America East Coast routes. Two sister ships were compared, one with and one without the windshield.
With today's larger container ships, the height of the containers loaded on their decks has increased, subjecting the vessels to greater wind resistance. MOL recognized the need to address this issue in a cost-effective way. Development of the new device began with an examination of the bow's aerodynamic form through wind tunnel testing.
This led to the adoption of a horseshoe-shaped design, which encloses the front line of the stacked containers to maximize the wind resistance-reducing effect while minimizing the weight of the main unit. The new windshield has enough design strength to meet the ClassNK rules concerning wave impact pressure. In addition, by obliquely setting the containers placed along the sides of the vessel behind the windshield, the sides of the vessel are more streamlined, further reducing wind resistance.
MOL continues efforts to confirm the windshield's seaworthiness. The project is backed by the Joint R&D for Industry Program, in which Nippon Kaiji Kyokai promotes wide-ranging research activities in cooperation with industry, government and academia, and is conducted under the collaborative research of MOL, MOL Techno-Trade, Akishima Laboratories (Mitsui Zosen), Ouchi Ocean Consultant and Nippon Kaiji Kyokai.